Remembering, of course, that I'm a most mild-mannered person, the realm of things I never thought I would do is rather broad. Even some things I thought I would do remain undone, and this isn't a bad thing. My life is full of potential!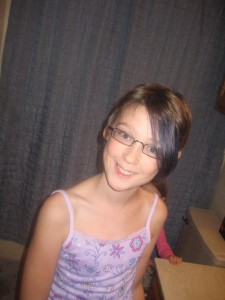 I never thought I would cut my own hair, let alone my daughter's, into a very short cut . . . using clippers. But this I have done. I continue to cut my own hair short for convenience, cost, and practicality. Cutting one's hair isn't a big deal, really, but I never imagined cutting and then dyeing my daughter's hair blue, especially not just the little bit up front that we left long enough to tuck behind her ear. This, too, was done, and most likely will be done again.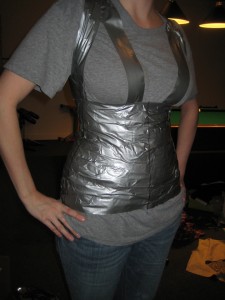 I don't know, however, if I will ever get another opportunity to wrap someone in duct tape. That's right. My ever-creative relative needs a corset for Halloween and found clever instructions here
that advise using duct tape to get the form/pattern needed. This is definitely a project to be done with someone you trust, and it is incredibly funny. Left alone, I think it would also make for a great superhero garb.  🙂  She didn't have to consent to a photo, but I'm glad she did.
I hope your fall time has brought such creative exploration and new experiences.  I'll look forward to sharing the many projects that this coming Christmas season promises.