Exodus 12:1-14 | Psalm 149 | Romans 13:8-14 | Matthew 18:15-20
Take a moment to breathe. How are you doing? Because there is a lot going on right now.
Even if everything is wonderful for you, there are people in Houston digging through mold and mud. An earthquake struck South America, and now Florida is being battered by Hurricane Irma. There are people directly affected by the DACA decision, and there are also those being persecuted in Myanmar and refugees fleeing war-torn countries. Thanks be to widespread communications, we are aware of what a mess things are right now, and it is a lot. In the wake of so much that seems like death and destruction, we might ask, "Where is God in all of this?" It's a faithful question to ask, and how we respond to it says a lot about our theology, our understanding of God.
I have heard some respond that God doesn't give us anything we can't handle, that hurricanes or disasters are either given to help us be the strong people we are, or that are some kind of consequence for being sinners. Given this line of thinking, God is at the hand of destruction. So much like in Exodus, God is the agent behind the angel of death that destroys the firstborn in Egypt, unless they have been signified as households of God. We might gratefully wipe our brow and dismiss this as "not our position," relegating it as a position of Jewish theology, this view of a wrathful God who hardens hearts and sacrifices the living. We separate our good selves from people who attribute natural disasters to some trite meaning.
It's okay for us to say and believe that we don't understand–we don't know–why these horrible things are happening, especially to the vulnerable, to people who don't have options or the ability to change their circumstances. As people who can rationalize anything, we can assign meaning to anything, too, but I caution myself when it comes to ascribing attributes to God based on my finite understanding of how things work. I don't know. I can't know. (Along this line, there was also this response to God and the disasters at hand.)
But I do know this: when I look for God in situations, I find God in relationship with people who are looking for God.
God was there in the midst of Pharaoh and Moses, giving Pharaoh the chance to heed the warnings being given.

God was guiding the people in their preparations for their meal.

God is with the people crying out for protection, help, guidance, and deliverance . . . ALL the people.

And God is with us who have the ability to respond to the needs of our neighbors.
As part of my job, I consider it a perk to visit with people who have questions about the church, and I love when people ask what's truly on their minds because it means we're developing a level of trust between us, we're entering a loving relationship. After general questions about what my collar's made of and about some "Episcopalianisms" being clarified, somehow the topic came up about how part of my role as a member of the clergy, is to bring the presence of Christ. As much as my clericals say "the priest is in," so also do they signify that a person is present who believes that when two or three are gathered, Christ is here. She asked me sincerely, "So do you think Christ is present now?" Yes, of course. Not just because we were talking about religious things, but because we were giving attention to one another. We were listening to one another share stories of who we are, where we were in our lives and work. Surely the presence of the Lord was with us.
I attended the public discussion about the Confederate soldier statue on the square, along with about 140 others. In that mediated discussion, a room full of people agreed to hear what others had to say, even if it meant hearing an opinion that differed from their own. I heard things that made me smile and things that gave me pause. At times, it felt like my heart seized a moment as I wondered if a person truly meant what they said or understood its implications, and at other times, my heart swelled at truth–even painful truth–being spoken. It was a room of people that was trying to be in relationship, and it wasn't without times of tension. Even though it wasn't a religious gathering, I felt that there, too, God was in our midst.
Driving home from the event, I was kind of rushed because I hadn't yet had lunch, and the Saturday night service wasn't far off. I take a sort of short cut to my neighborhood through another one. Right in front of the stop sign, there's a house that almost always has its garage door open and at least five or six kids playing with an adult or two sitting in the garage. It's an African American family, and I almost always smile and wave at them because I admire that the kids are actually playing outside (something I struggle to get my kids to do), and I am grateful to see people of color living in Bentonville. The diversity in Bentonville today is much richer than it was 30 years ago. (Out of the 140 people at the forum, only 3 black people were present.) Rather than just be the crazy lady who waves at them, I've always wanted to stop and introduce myself, but it never seems like the right time. I'm always just driving by. This time wasn't any different, but so filled was I in hope of dialogue and relationship, that I turned left instead of right and parked my car on the street in front of their house and went up to introduce myself in the midst of the little dog and playing children. I met the youngest of the adult children who helps with watching the other kids. They shared some of their family story, and I listened. I mentioned the dialogue about the statue and the lack of presence of black folks, and he wasn't surprised. I mentioned racism and prejudice and discrimination, not all at the same time, but throughout the conversation, and he mentioned that he had "been black all his life." Before I left, I told him I just wanted to stop by and introduce myself as a neighbor who was glad to meet them, and he told me I was welcome to stop by anytime. At the end of the day, it's all about being a good neighbor, right? Living into the commandment to love one another?
It's easy to get caught up in talking about what to do and leaving ideals in the ideological realm, but I'm more of a mind that we don't have time for just that. It's not enough to talk about something. It's not enough to point out how nice something is for others to do or for theories to exist.
What are we doing now?
As a church we're signing up to serve, so all of you check out the ministry fair today! We actively serve in our church, a church where everyone is a part of our work and worship. It's not just about what we do as clergy but what we do as a body. But it's also not just about what we do in here, within church walls, but about what we do outside. So talk to your neighbors if you don't already. Bring awareness of the presence of Christ to your midst. If I can do it, anyone can; it just takes getting over that initial barrier outside your comfort zone to find what you didn't know you were missing.
And there's something to sharing a meal together. We do it every week here. There's something about setting a table with intention for nourishment. So, starting next month, I'll host a "Dinner with the Vicar." It will be a sign up to come join my family and me for a simple meal, nothing fancy. (I have pets, too, so be forewarned!) Over a meal, we can share our lives together more intimately than just a quick greeting at the back. I'll continue to meet with folks as much as I can over coffee or wine or at your homes, but I consider this opening a path to deeper relationship. I also consider it an invitation for the church to start a "Dinners for 8" model, where we take turns hosting a meal for folks in our congregation, always open for visitors, so we can share our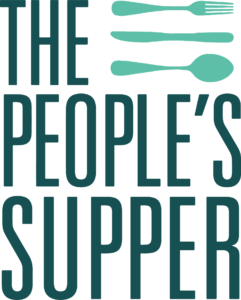 lives together in a meaningful way, share our stories that we don't otherwise get a chance to share. Not only for our church family, but I'm opening this up even more broadly by signing up for a People's Supper. There's a group that set up a model for "healing suppers" and "bridging suppers," doing what they suggest in bringing together like-minded folks and then broadening to invite others with a different viewpoint–over a meal.
Wherever we find ourselves, in whatever kind of predicament either good or bad, it's okay to ask "Where is God in this?" It's a faithful question to ask because we only ever find what we seek. If we want to find God, look at our relationships. Look at how we care for one another. If we want to find God, look for how we love. If there's not evidence of love there, maybe it's up to us to bring the presence of Christ.