Exodus 34:29-35 | Psalm 99 | 2 Peter 1:13-21 | Luke 9:28-36
Wherever our lives have taken us, our paths have led us here, to this moment on the Feast of the Transfiguration of our Lord, a feast that marks the occasion of Jesus being transfigured from an ordinary, praying man to the radiant and dazzling Son of God. It will always be significant to me when we baptize someone new and renew our vows because it reminds us that our roots are grounded deep within our tradition. Today, especially, we are reminded that our trajectory is oriented toward the glory of God, our ears attuned toward Christ. We are reminded through story.
We start with our Bible stories because these are our past, even as we bring them to the present. We intelligent folk might get a little tangled up in the verification of facts from fiction in our Holy Scripture. My Old Testament professor, who read her Hebrew as we read our English study Bibles to illuminate discrepancies in translation, pointed out to us time and time again that we were missing the point of our Holy Texts if we were caught up in what was fact or fiction. She said we needed to be concerned with what is True because it could be True and not a fact, and that it is through these holy stories that God reveals the Truth to us. Stories like bearing witness to the glory of God.
We're given a preview, aren't we, of the power of the glory of God, from Moses' encounter at Mt. Sinai? This part of the story is where he was so radiant from being in the presence of the LORD that he scared the people at the bottom of the mountain. After he shared what the LORD our God had told him, he covered his face with a veil and remained covered, presumably, until he was back in the presence of the LORD. Moses' face was radiant; his face shone with the glory of God from God passing over him. Was it hope? Was it assurance? Was it the perfect combination of grace, mercy, love, and light that illuminated his whole face that he was scary to people who thought they knew who he was? God had changed Moses somehow, but Moses continues unapologetically to do the work God has given him to do.
The highlight of today is our gospel story of Jesus's transfiguration. Mind you, religiously we understand that a transfiguration is "a complete change of form or appearance into a more beautiful or spiritual state" (per Google definition). Not only does it have a physical component, but there is also something of the Spirit about it that gives it an "exalting" or "glorifying" component (per Merriam-Webster). It was true of Moses, and now we have it in Jesus. But we don't just have an account. We have a story.
Jesus chose his three fellows–Peter, James, and John–to go up the mountain with him to pray. Were they watchmen or companions or fellow pray-ers, it doesn't say. But while Jesus was praying–and probably while the disciples were praying, too–they were distracted. They probably felt a disturbance while they were o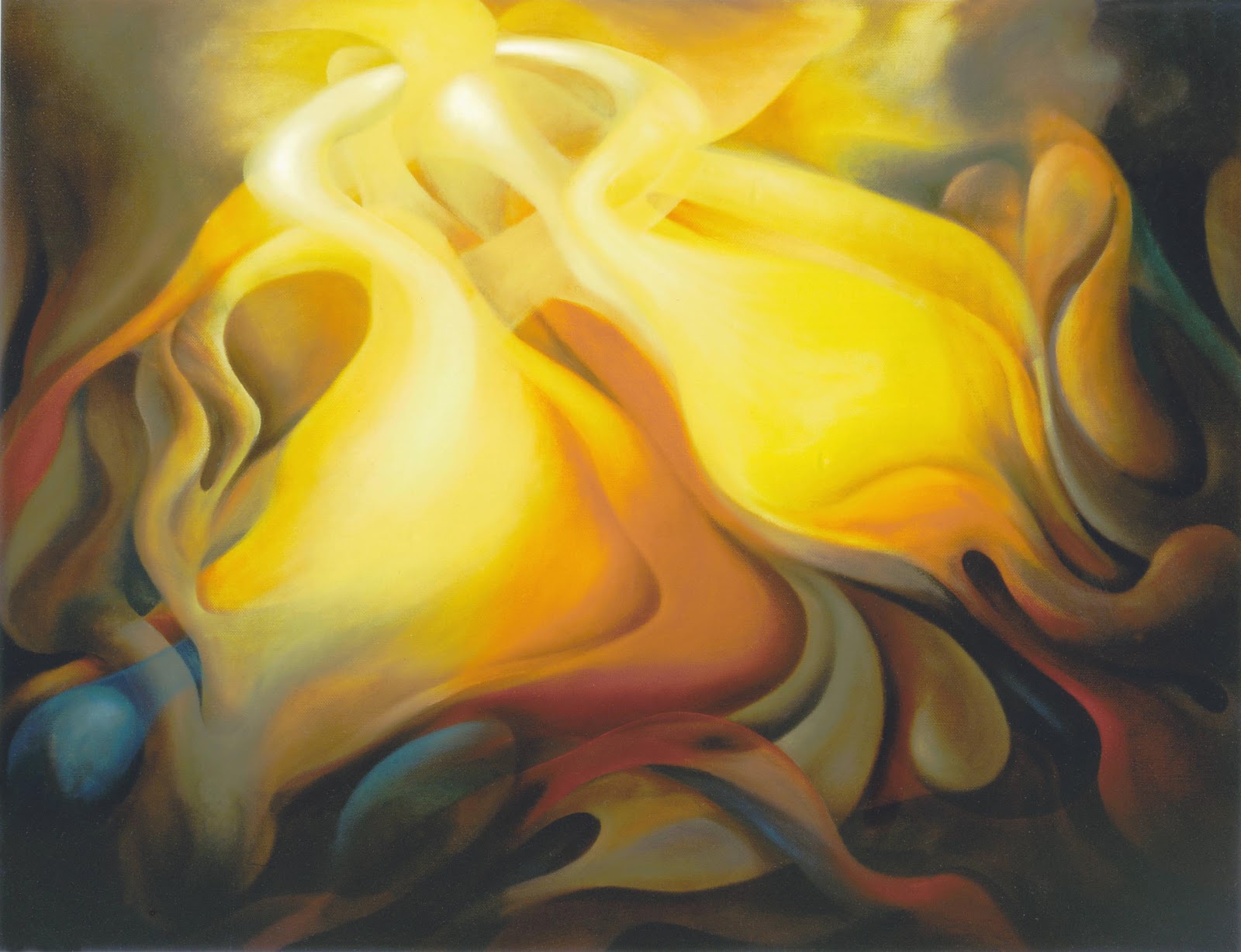 f course bowing with their heads down and eyes closed, but they couldn't close their eyes again as they saw Jesus's countenance transfigured, his clothes no longer desert-dingy but dazzling white. They saw blessed Moses and Elijah talking with him, heard them talking about his forthcoming departure that Jesus had mentioned but no one really wanted to comprehend. The three disciples had been so tired, but now they were awake, one might say they were rewarded for their wakefulness to witness this great sight, a sight that Peter wanted to commemorate. But then a great cloud overshadowed them, right . . . like at Sinai with Moses. And they were afraid in this cloud that had a voice that told them, "This is my Son, my Chosen; listen to him!" Then all returns as it was before–except that they had experienced this, hadn't they? We are told they kept silent and in those days told no one of what they had seen.
(Of course, it's a great irony that they told no one when we have this story archived in our Holy Scripture.)
They had just seen something truly incredible. How many of us, if we had seen that, would have been able to keep it quiet? How many of us, having experienced something great tell no one?
How many of us, having experienced the grace and love of God, know it in our heart and soul yet keep the good news to ourselves?
Maybe it was easy for Peter, James, and John to keep quiet because they didn't want to sound crazy or have everyone else judging them. Or maybe they didn't want incite chaos because it was said that Moses and Elijah would appear before the Messiah. Maybe they were still terrified at the cloud-voice they heard, and they were being quiet themselves until they had explicit instructions from Jesus on what to say and do. He had taken them up the mountain to pray.
Maybe the best prayer advice we can get is to listen.
But they experienced something amazing. Whether they knew it or not, day in and day out they were with Jesus, and he was transfiguring their lives. What they saw happen to Jesus was happening to them, only they had not the eyes and ears to understand. We still don't understand. But following Jesus changes us, exalts us, glorifies us because when we encounter Truth and Love in the stories we share, we discover more and more of the Light our lives have to bear. Those whose lives had been touched, healed, restored, transformed by the life of Jesus Christ bore a mark to the soul of having been touched by God, just as all of us who have been baptized and sealed by the Holy Spirit and marked as Christ's own forever.
This notion of being elevated to or into the glory of God is not new. Our church mission "is to restore all people to unity with God and each other in Christ" (BCP, 855). Jesus showed us the way during his life as he went around healing others, welcoming the other, hanging out in the margins, not clinging to stuff or buying into the status quo. His whole life story was about showing us how to find our way back to God. Love God and love your neighbor as yourself. Sounds so simple: kind of like just going up a mountain to pray.
But here's another story.
I'm reading Krista Tippett's Becoming Wise: An Inquiry into the Mystery and Art of Living, and I find myself rejuvenated by her words and the stories she shares. Mostly, the book is a sharing of stories from people she's interviewed in her career, particularly through On Being. Early in the book, she mentions Rachel Naomi Remen, "a wise woman and physician" who "first began to challenge the nature of cancer treatment . . . with her realization that every illness has a story attached." Her understanding that "the details of a person's life make every cancer or diabetes or heart disease different and every course of healing unique" may have first taken root in her fourth birthday present, given to her by her Hasidic rabbi grandfather: the Birthday of the World (24). The story begins in the holy darkness at the source of life where eventually a great ray of light emerges. Only an accident happens, and the light is broke, shattered and scattered and hidden to this very day. The task of humanity, of course, is to restore the fragmented, hidden light of the world to its wholeness. "We are all healers of the world," Rachel says, and "It's not about healing the world by making a huge difference. It's about healing the world that touches you, that's around you." This story from her grandfather touched her in a poignant way and challenged her to consider that not only she herself but all of us are exactly what's needed to heal the world, not all at once in one fell swoop, but one fragment at a time, one by one.
We understand who we are, in our brokenness and in our restored wholeness, through our stories. We tell our birth stories, as Christians, as human children. We tell our stories of transitions–when and where we went to school, moving across state or countries. We tell stories of hardship, grief, and trauma when we can, usually when we've gotten to the other side of them or at least have a little more understanding of them or more support in their midst…when we have more love than fear in place to see with eyes open and a courageous spirit.
So often in these stories, while they are filled with all the who's, what's, when's, and where's, and probably a good dose of humor or suspense and lots of emotion, where do we see God? Do we point out what is True? What have we learned, what have we gleaned? What has been revealed to us about God that uncovered a fragment of Light that was buried near us?
It could be that we've grown accustomed to thinking we had to climb some spiritual–or physical–mountain to achieve enlightenment or the glory of God. But really we have the multi-dimensional here and now to mine. In every direction, who is there to be restored to health? What is broken and needs to be made whole? Like our precious possessions in our home, like our friends, family, and neighbors, everything and everyone has a story. If we listen well enough, we'll see the Truth and Light revealed. That revelation will change us, if we let it. Whether we say a word or not, others can know in the countenance of our being that "the morning star has risen in our hearts," that we, too, have been transfigured by the Glory of God.