Numbers 21:4-9 | Psalm 107:1-3, 17-22 | Ephesians 2:1-10 | John 3:14-21
Our Fourth Sunday in Lent finds us drawing nearer to the Passion of our Lord, when he will, inevitably, be lifted up on a cross. In our Gospel, Jesus foretells his end and purpose by recalling the familiar-to-the-Jews story of the Israelites in the wilderness who were struck by the snakes but saved by God through belief in God, demonstrated by their belief in the bronze serpent on the staff.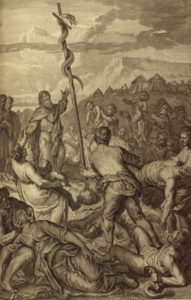 This might be confusing to us because we're fairly certain God prohibited false images of God. Rest assured that the bronze image wasn't of God but of a snake Moses cast at God's command. God once again gave an instruction to the people, and those who heeded the words did something in particular–in this case, looked upon the staff–and were healed of their malady. Once again, it's God's word that's at work here. Neither Moses nor the staff are doing the healing; it's God who is doing the work. The people are given the opportunity to heed God's word, given the opportunity to believe in God and thus remain in covenant with God. Now, in this case, their life is literally on the line. If they don't look upon the staff, they're going to die from their bites. One might say they're not really given any option, but their decision carries a lot of weight, making it a powerful story of survival. When the Jews are recounting the journey through the wilderness, when Paul recounts it to his audience, the failure of the people at this point in the story remains one of those vivid moments when they failed in their obeisance to God. "There's no food or water," they complain, "along with "We detest this miserable food." Ah, so there is food; you just don't like it. (There's a distinct shortage of short-order chef gods in the desert, apparently.) What did they expect? They've been delivered from slavery, released from their bondage under pharoah, and now they're discovering deeper levels of their bondage, the many ways they can displease God. But all is not lost because they are given a way to be healed, to be saved from death.
Even when people anger God, as our psalmist proclaims, "His mercy endures forever." Even when the Israelites have gone astray again, "He sent forth his word and healed them/and saved them from the grave." Do we realize the profundity of the fact that God's "mercy endures forever"? Mercy, dear folks, isn't forgiving with a blind eye or foolish love. Mercy is seeing what the trespass is, naming it, seeing the suffering that both led to the trespass and resulted from it, and still recognizing the person as a beloved child of God, worthy of grace and redemption. We humans aren't always good at it, but God's mercy endures forever.
I say we humans are bad at it because there's a small group of us who have been reading Bryan Stevenson's Just Mercy during Lent. I've mentioned before that my faith in Christ is way up there, but my faith in humanity struggles to stay on the chart: this book reminds me why my view of humanity gets low. The discriminatory and sometimes outright illegal way certain folks get channeled into the prison system appalls me: pray for those who have various shades of brown skin and those who are poor. That we confine people behind walls and bars because we don't know how to deal with them and then continue to punish them because they don't understand or physically can't follow the "rules" appalls me: pray for those who struggle with post-traumatic stress disorder and other mental health illnesses. That we say we value the sanctity of life yet tear families apart, inadequately provide physical and mental healthcare, and execute people . . . that appalls me: pray for the human family.
That God knew the Word made flesh would walk among us and ultimately be crucified by us and for us . . . that amazes me. "His mercy endures forever."
The Son of Man must "be lifted up, that whoever believes in him may have eternal life, . . . that the world might be saved through him."
God didn't have to send serpents when Jesus walked the earth. We were already destroying ourselves. We needed a beacon of light bright enough to shed light upon the error of our ways and save us from our self-destruction, evil's favorite way to work. Either set us up for self-destruction or set us up to think we've got it all under control and don't need God: either way works to get us off track and turned away from God and on the path of sin. Forget about love of God, of neighbor, and true love of self. Let's just focus on what we want to do and what works best for me, gives me power, makes me feel good. This kind of thinking led to Jesus getting mad enough to overturn the tables in the temple. This way of life affirmed to Jesus that his life would have to be lifted up on a cross to save us from our way of sin, our disobedience to God. The way of sin leads to death, and Jesus brought to us the way of life.
We know that Jesus triumphs over death and makes sure the way of reconciliation and redemption is open to all who believe in him. (Thank God!) In our tradition we have the cross alone and not the crucifix because we focus on the life, death, and resurrection of Jesus: Jesus doesn't stay on the cross forever. But we can't ignore that part of the Paschal mystery. That Jesus died by crucifixion is part of our story. Without the Love and all its mercy and grace embodied in the death of Christ, we on our own would be swallowed in darkness. Left on our own, we're not all that different from the Israelites in the wilderness, being attacked by all manner of toxicity, certain to die.
Last week, the collect said we have no power within ourselves to save ourselves. This week, it's the belief in Jesus Christ that saves us, that feed us to give us life–his life in us and ours in him. I don't know if you sense the urgency of the imperative we have to get out of our "me-first" thinking. Fifteen years ago it seemed almost new-agey, speaking of the ego and the True Self, and then even in terms of Christian spirituality it seems kind of mystical or elitist to think of being one with God or to embody the Christ-mind. But here's where I'm at with this . . . and it's not even monetary greed that I'm thinking of today, though it's still at the back of my mind. I read an article in The New York Times ("Suicides, Drug Addiction and High School Football"). Please note that this contains material that is both violent and heart-wrenching.
In the article, it describes an idyllic town of about 12,000 on the National Historic Register with a lovely Main Street. Tourists come and go. But this journalist was approached by a waitress who heard him giving an interview.
She checked over her shoulder to see if anyone was listening. There was an urgency in her whisper as she said: "I lost my son last month. He hung himself from a tree in our yard and shot himself in the head. I cut him down myself, with my own hands. So many suicides." She wiped away tears. "We need your help," she said.
The shadow that's coming to light is that this pretty little town is drowning in suicide, depression, drug abuse and addiction (remember, the opioid crisis has been declared a national emergency), and child neglect. Of course, all these are inter-related. Of course, no one really wants these things to come into full light. It might hurt tourism and businesses. And really, everything seems like it should be fine on the surface because people are working and employed (if they're not in rehab or prison). They live in a nice place and have work. Kids are in school . . . but they're killing themselves.
The article highlights that the football team, that hasn't garnered a trophy in over 20 years, is an oasis for the players. The football team gives them a family when most of the time the parents are working one or two jobs (if they're not in rehab or prison). It gives them something to focus on when they're struggling with the grief of losing a sibling or friend to drugs or death. The coach of the team says it's not the wins he's focused on as much as it is staying a role model and a contact for the kids. The coach's brother had been a heroin addict.
This is a sad, sad article. It's a sad article because it portrays what is in Madison, Indiana. It's sad because it reveals the suffering of our neighbors. It's sad to me, mostly, because it ends without resolution. A light is shone on a crime scene, and all the death, evil, despair is in full view.
This is a sad article because I feel like it could have been written here. If we're honest. With serpents of stress and anxiety nipping at everyone's heels to perform their best, look their best, do their best "or else" be cast aside . . . or maybe there's not even a chance of living up to expectations or getting out of the cycle of pain, so why not use whatever it is that numbs the pain this time and a little more next time . . . and if I've given up on myself, I can't stand to think about the kids, so I'll neglect them, too, and there's not even a shred of evidence of God in my life, so why should I bother?
If you wake up with an inkling of purpose or joy or hope in your life, blessed one, give thanks and stay strong. And if you believe in Jesus Christ, then you better give God a wink of thanks and get to work not only shining the light in the darkness but sharing that which sustains you. Share the bread that feeds you. You come to this altar and are fed with the Bread of Life. You believe you have received grace upon grace, that God's mercy endures forever, that the Holy Spirit has given you the power to share the love of God in this time and place. Some part of you believes that, or you wouldn't be here. And a friend of mine said recently that we should be exhausted and panting as we race back to church on Sunday because we are so depleted from sharing Jesus with others that we can't wait to be refilled and renewed, receiving more of the Word of God and the Bread of Life so that we can go back out and share some more. "If we're not, then what are we doing?" she asked, almost sadly.
The critical point is this: the whole "me-first" thinking isn't working for us; it didn't for the Israelites, and it isn't working for us now. As Christian monotheists, we put God first, and we believe in Jesus Christ as our Savior. As people who walk a way of Life, Light, and Love, we have the power to share that with others, not to abuse them with it but to shine the Light their way and see if and how Christ might work in the midst of those gathered in that moment. Look in your pew. Anyone missing? Maybe reach out to them, or let me know to reach out to them. Have you talked to your neighbor lately? Have you voted? Have you called your relative out of state? Are you praying for the nation and the world? You have Jesus in your life. We know the pain and suffering he endured for us, and it was no match for his mercy . . .
 . . . for his mercy endures forever.