1 Samuel 15:34-16:13 | Psalm 20 | 2 Corinthians 5:6-10,[11-13],14-17 | Mark 4:26-34
Last week I spent some time talking about Saul, and this week we hear again the story of David's anointing. We witness again the obedience of Samuel, and we hear the not-so-common phrase that the LORD was sorry that he had chosen Saul as king. We're also reminded that God doesn't see as humans see, that God knows our heart. This and so many other stories in our Old Testament reveal something to us of the nature of God. These stories show us how we as people relate to the Almighty, how we are in relationship with God and how God expects us to be in relationship. It's interesting to me to read the stories paying attention to such revelation and see how it applies or how it's changed in our current time.
In the New Testament, particularly in our gospels, it's likewise interesting to me to learn about what God reveals to us about the kingdom of heaven. We have the person of Jesus–God incarnate–showing us in word, example, and in his very being. In particular, the Word lingers for us in these parables that reveal to us the kingdom of heaven if we have eyes to see and ears to hear.
Today, the kingdom of heaven has something to do with the seed that's fallen to the ground and sprouts from the earth–we know not how. It grows and bears fruit, and we are there to harvest it. It's true: we don't exactly understand the miracle of life, but we witness it. We know when someone is living into their gift, thriving as the child of God they're created to be. It's not without work, germination, discernment, and time, but it's also the most natural thing in the world.
And the kingdom of heaven is like the mustard seed, growing from the smallest of seeds to the greatest of shrubs, bearing branches that give refuge for the birds of the air to make their nests in its shade. This is a beautiful image, one of the most concise parables we get of the kingdom (and the shortest lesson in Godly Play!). The mustard seed is tiny, about ¼ of the size of a poppy seed. While in Jerusalem, walking along the sidewalk, our guide said, "Ah, here's a mustard tree. Who is it that wanted to see a mustard tree?" "Me!" I shouted, my hand waving in the air. It was flowering with its bright yellow flowers and looked to be relatively young, though it was taller than me, and some of the flowers had died, leaving the dried seed pods behind. I plucked one off and asked my friend to hold out his hand so I could break it open; when I did, I sprinkled the tiny black seeds into his palm.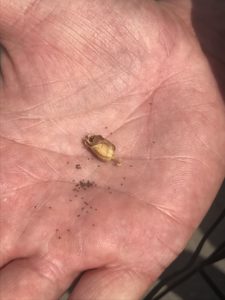 These tiny seeds grow into the greatest of shrubs, providing a refuge, a sanctuary, for birds of the air. These birds can be looking for a new home, a safer place, better living conditions, protection from other creatures that might do them harm. They seek asylum. They find this in the kingdom of heaven.
We were told recently–in defense of the practice of separating families at the border–that the laws of government should be obeyed because they are ordained by God to fulfill God's purpose (siting Romans 13:1). Let's be perfectly clear here: we're given witness of the life, death, and resurrection of Jesus in the gospels, and the rest of the New Testament canon is showing us how we live into our commission to go forth into the world, proclaiming the Good News, baptizing and making new disciples for Christ, being the Church. Paul gives testimony to how hard this was and continues to be. Our Scripture recognizes laws that govern. Jews lived by Torah law and had to navigate within Roman rule as well. Jesus was pretty clear in rebuking both when they trespassed God's will, when God ceased to be first and foremost and when the people failed to love their neighbors. As Stephen Colbert was quick to point out, Romans 13:10: "Love does no wrong to a neighbor; therefore, love is the fulfilling of the law." The law of the land in the kingdom is what we expect: to love God with all our heart, mind, soul, and strength and to love our neighbors as ourselves. Are we extending our branches as sanctuary and refuge? Are we revealing the kingdom of heaven here and now?
The Poor People's Campaign: A National Call for Moral Revival believes that as a people united across the spectrum, we can find true center and manifest in our communities something that looks more like the kingdom of heaven and less like societies built with walls, clearly marking the haves and have-nots. The kingdom of heaven grows we know not how but has a great Love at the center of its power, and that love knows no bounds. Last week at the campaign, we rallied to the theme that "Everybody's Got a Right to Live!" Everybody's got a right to education, affordable housing, living wage jobs, and income. Everybody has a right to a quality of life worth living. In 30 states, folks rallied, and in Arkansas, we gathered at the steps of the capital, having been denied permission inside because of previous guideline violations. After the rally was over, there was a conscious decision made by some to stand at the capital and chant and sing, to take the message into the people's house. We knew this wouldn't happen. We knew that after the third warning we would likely be arrested. Ironically, it was after we were arrested that we were actually able to go into the capital and sing a song: "Somebody's hurtin' my brother, and it's gone on far too long . . . and we won't be silent any more."
"What good does this do?" people have asked me. What point did you make? Major news media outlets weren't there. If you aren't on Facebook or don't get the online newspaper articles, chances are you didn't even know about it (unless you read our newsletter on Wednesday). For me, as a person of power and privilege in society, it's my call out to say that I'm paying attention, to say that I'm willing to put myself out there for the least of these, to disrupt the typical order of things to point out that something isn't right. "They're arresting clergy now?" a friend asked me. Since the first week of the campaign; I'm not alone in this.
Still, this isn't the way for some. At the Continuing the Conversation on Wednesday, I got the same response, similar questions, but I also shared this story I read about on Blavity:
This was one woman's response in a situation that could have gone entirely different. Further in her feed and comments, she said she looked at the security guard who was watching them, and she shook her head as if to say: "Not today. You don't get them today." Instead of letting them get caught or turning them in, sending them right on down the pipeline, she spoke to them. She asked them questions. They are 13 and 14 years old. They needed the deodorant for practice but didn't want to burden their fixed-income grandmother, who is their guardian since their mother died. They hugged Nanasia and cried. She gave them her name and phone number in case they ever needed a Big Sis or Auntie again.
This is an example of a different kind of direct action, an act of kindness made at a very personal, intimate level. You still don't know what the long-term effects are: maybe one of those kids will grow up to be president or a Big Brother. Maybe when he's older he'll see a kid in distress and give him a hand up.
We're always scattering seeds. We can't know exactly how they'll grow. We won't all be mustard trees, thankfully. Creation shows us great diversity that provides sanctuary in all kinds of ways. But we're all given gifts, talents, treasures, and choice. How we use them makes all the difference. If you're struggling to know whether you're on the right track, set your mind on the kingdom of heaven, and in prayer, ask yourself if it rings true of love of God and love of neighbor.