2 Samuel 18:5-9, 15, 31-33 | Psalm 130 | Ephesians 4:25-5:2 | John 6:35, 41-51
Maybe because it's back to school time, but I get a feeling from the letter to the Ephesians that this is an "All-I-really-need-to-know-I-learned-in-kindergarten" kind of lesson. There are, of course, posters of the kindergarten lessons that Robert Fulghum found particularly book-worthy, and you can look those up later, but we could also make a poster from Ephesians, I believe. We could call it a "How to Get Along" poster, and on it we'd put:
Speak the truth.
We're in this together–all of us.
It's okay to be angry–just don't sin.
Keep your anger in the light.
Be so filled with good that there's no room for evil.
Work honestly.
Share.
Build one another up.
Speak grace.
Be kind, tenderhearted, and forgiving.
Live in love.
Or maybe we'd call the poster "How to Live in Love." Either way, these are as good for us as they were for the church in Ephesus.
We can see how this list pinpoints how David went awry, followed by his sons. For all that they did wrong themselves, even with forgiveness at play after the fact, there were dreadful consequences. We don't read the in-between to get the backstory for Absalom's death, and it's certainly not kindergarten-appropriate. Suffice it to say that if you read Second Samuel between last week's (Ch. 11) and this week's readings (Ch. 18), including all the verses skipped in our lectionary, you'd read a sampling of the stories which often turn people away from the Bible. It's like learning about those from whom you are descended but whom no one really likes to talk about–the parts of the family tree that are left to get overgrown and hopefully overshadowed by the healthier branches.
Basically, Absalom rose up to rebel against his father, even after he had been brought back into his father's good favor, and we know from today's reading it ended badly for Absalom. Ironically, it was Joab who facilitated the reconciliation between Absalom and David, and then it was Joab who dealt the first of many death blows Absalom received. Our history, even that of our religious family, is harsh and violent, full of hubris.
Most of us know this and realize this. It's knowing our past, our history, and what we are capable of that prevents us from making the same mistakes, right? Until we truly learn from our mistakes, though, we get to repeat the reel. Until we truly know and understand, we're likely to slip into familiar ruts and get stuck or commit grievous mistakes that wreak havoc in our relationships.
We may think we know, but really we haven't a clue.
The self-confident knowing of those who heard Jesus claiming to be the bread of life did not serve them well. These people are described as Jews who knew Joseph and Mary, so they think they also know who Jesus is. These are most likely faithful Jews, like Mary and Joseph. They've seen each other at synagogue, said prayers with them, attended festivals, but now Jesus is off the rails, claiming a different father, hearkening to the Almighty. Jesus even claims–in his flesh–to be greater than the manna that rained from heaven to save their ancestors through the Exodus.
How dare he.
Jesus challenges what they believe at the very foundation, with something as simple as bread. The Almighty One had saved the Hebrews through the desert with a bread from heaven, and true enough they all died. Jesus is now saying that he is the Bread of Life, "the living bread that came down from heaven" so that "whoever eats of (him) will live forever."
From where they're standing, from all they understand and think they know, Jesus isn't making any kind of sense–no more than telling a preschooler to share with everyone the brand new box of markers that their mama bought especially for them. Sometimes we can't reasonably explain what is, whether it's because we can't comprehend given our personal limitations or whether it's because we can't fully comprehend the Mystery that's at play.
Jesus is following all the guidelines for getting along with others; he's already in the midst of the relationships. It's on the side of others that things get tricky. The Jews to whom Jesus is speaking think they know who Jesus is. They also understand their lives centered in their Jewish faith, steeped in the stories of their people, their ancestors. When Jesus steps up to say again, "I am the bread of life," they don't understand his truthful speech; it doesn't resonate with them but rather challenges them. Rather than seek to build one another up, the rest of the gospel according to John reveals how they seek to destroy this one who challenges what they have understood all their lives.
In our tradition, we trust that all unfolded as Scripture intended, and even the crucifixion of Jesus gave way to a life triumphant. "The bread that I will give for the life of the world is my flesh," Jesus says. The Word of God made incarnate was not so much taken as offered in an act of divine, ultimate, self-sacrificial love, and each time we come to the Lord's Supper, Holy Communion, the Great Thanksgiving, our Holy Eucharist, we partake again in the Presence of the one who gives us life, not only in body but also in Spirit. There's nothing we can do to earn the grace and mercy already given to us, but if we believe, then the life lived in God through Christ is ours to be had.
Such a blessed life doesn't mean that we'll always live life in love. From the early decades following the resurrection, the apostles and Paul and those documenting events reveal how the faithful strive to navigate church politics and difficult relationships. Surely they fall back on the Ten Commandments and societal laws upholding the common good, and they outline these ethical codes to help guide the morale of the whole. Their intent is to keep the Body, with all its members, in unity and accord. Remember the call given to all and the plea to maintain the unity of the Spirit through the bonds of peace, as we heard last week in Ephesians (4:3). Consequences of not living into the life of love resemble the sorrow and heartbreak we hear from King David in Ps. 51 and today's Ps. 130. But no matter how desperate we become or how horrible we've been, our belief holds us within God's embrace, God's presence. In our desperation, we, too, can wait for the LORD, "more than watchmenfor the morning."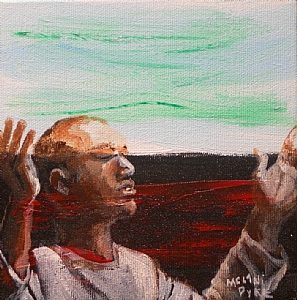 What might that look like? What do we wait for "more than watchmen for the morning"? What do we yearn for so much that we'd stay awake through the deepest darkness and wait in anticipation for the slightest ray of light? When it comes to our relationships with one another, as we start school and enter the midterm elections, what does it feel like or look like to let our soul wait for the LORD first, before we interject all we think we know into our relationships?
If we wait for the LORD first, before we make any sort of declaration or assumption, we more humbly take our next step. Maybe that's closer to the person near to us, or maybe it's taking a few more steps around the person who doesn't want to engage in a loving relationship right now. God's time so often isn't set to the agenda we have or want. But God's time is filled with grace and patience as we struggle to remember what it is that our teachers taught us in kindergarten and what it is that God's already written on our hearts for how to live life fully, nourished by Jesus Christ.