2 Samuel 7:1-11, 16 | Romans 16:25-27 | Luke 1:26-38 | Canticle 15
Advent is all about preparation. "Prepare the way, O Zion," we've sung, and theoretically, that's what we've been doing, preparing the way for Jesus Christ to be fully present. These past three weeks have given us clues. As we lit the first candle with a word of peace and heard the Gospel tell us to "keep awake," we focused on being present and aware. We lit the second candle in hope that we'd be a part of making a straight pathway through the desert, that the pathway of God's peace might be realized. We lit the third candle with a word of joy and the vivid image of John the Baptist proclaiming, being that voice in the wilderness for the one who stood among them but was not yet known, the one greater than him who would baptize not with water but the Holy Spirit. And today, we light a candle with the word of love on our lips, and we remember the Annunciation of Mary, to whom the angel Gabriel said, "Greetings, favored one. The Lord is with you."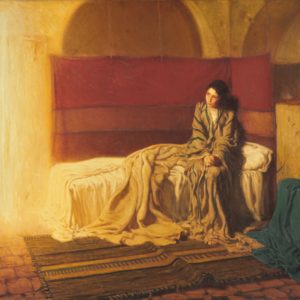 If you went home today or sat in your favorite chair reading or watching a movie tonight and Gabriel appeared to you, would your preparations find you in a place ready to engage God's will? Because Mary was apparently ready, though I do like the poems and paintings that show her hesitance, reticence, youth, and vulnerability. It is not lost on me that after Gabriel has told her not to be afraid and that she's chosen to bear the Son of the Most High, her most pressing question is about how that's to be? How can she be pregnant? Forget the logistics of gestating, birthing, and mothering the Son of God: let's start with the basics. And she's told that the power of the Holy Spirit will overshadow her, with her consent. Mary shows us who she is in her devotion, in her strength.
I mentioned that there was one more thing I wanted to share from Brené Brown's Braving the Wilderness.
"All too often our so-called strength comes from fear, not love; instead of having a strong back, many of us have a defended front shielding a weak spine. In other words, we walk around brittle and defensive, trying to conceal our lack of confidence. If we strengthen our backs, metaphorically speaking, and develop a spine that's flexible but sturdy, then we can risk having a front that's soft and open. . . ." (quote from Roshi Joan Halifax at the beginning of Ch. 7, p.147)
I mention this because while we all take for granted Mary's strength, we often hear her spoken of as meek and mild. Of course she's that, too. God knows who she is and favors her. Surely she is one who loves God with all her heart, all her soul, and all her mind. She's awake and aware. She anticipates the Lord's presence in her life. Her joy is harder for me to see, so tied up in her love and her surrender, that it must be complete in being so implicated in God's will. That Mary is all of this in her youth speaks to a wisdom beyond her years, a strength of spirit that even Zechariah failed to show when Gabriel appeared to him. She heeds Gabriel's message not to be afraid, and her love of God remains steadfast. Zechariah, a high priest and elderly man, powerful in many ways, serves as a contrast to this our Mary in Luke's telling.
Young as she is, dependent upon her family and now her betrothed though between the two households, and about to be pregnant…could she be more vulnerable?
"Greetings, favored one. The Lord is with you."
God knew in Mary the strength of her spine, her strong back, not only to withstand the strain of childbirth but to endure the trials of raising a son who would have to go the way of the heavenly Father. He would break her heart in rejecting his earthly family. He would dismiss her when she called him out at the wedding feast, though she did not dismiss him. She would be close always to the news of him, as a mother does, and stand there even at his death. The song "Mary Did You Know" wrenches our hearts because we know that all this will come to pass, but how could she? God knows she's strong of heart, and she has a strong back.
And she's soft. Soft enough to swell with a child. Soft in her vulnerability, which means not only that she can be broken but also that she can break into newness of life. She's not hardened to possibilities or unresponsive to that which is far greater than herself. Naive as it may be, she knows who she is and where she is in this world. She doesn't have God's approval like Zechariah and Elizabeth; she has God's favor.
And the Lord is with her. Already. Before he was conceived. Before he was born.
"How can we give and accept care with strong-back, soft-front compassion, moving past fear into a place of genuine tenderness? I believe it comes about when we can be truly transparent, seeing the world clearly–and letting the world see into us." (rest of Halifax's quote on p. 147)
We see the Virgin Mary, in her youth and vulnerability, in her obedience and devotion, in her strength and love beyond her years. The Lord's favor was with her, indeed, radiating to all through the generations, this most highly favored lady. But before all the generations called her blessed, she had to brave the wilderness of her wild-hearted response, "Here am I, the servant of the Lord; let it be with me according to your word." Mary's "yes," Mary's consent to participate in the will of God took her further into vulnerability, the wilderness of walking a way alone. Like we said last week, though, when we take a light into the darkness of the wilderness, we tend to find others who have also ventured into a way that was right even if it wasn't popular, a way that is true even if it's uncomfortable. Mary makes it to Elizabeth's house. Mary makes it to the birth with Joseph. The Lord is with her all the while.
We may not get Gabriel visiting us today or ever. Our calls are not as dramatic most of the time as we navigate our jobs and vocations, our lives and loves, but the decisions we make are often life-altering. When we approach a precipice having done the training in mindfulness and presence, with knowledge of our story and stories, and with a strong back and soft front and wild heart . . . what does our decision look like if we not only believe but know that the Lord is with us?
Beloved, the Lord is with you.
How do our decisions make space for the presence of the Lord to grow in our lives? Are we responding out of fear? Are we putting up a shield to defend ourselves from what is uncomfortable, terrifying, or different? Or are we showing our soft front, our wild, open hearts? Can we take that step into the wilderness even if it's dark and unknown but we feel it to be true?
With this kind of walk in faith, the Light grows, and we make way for the Incarnation.