Isaiah 50:4-9a | Psalm 31:9-16 | Philippians 2:5-11 | Matthew 26:14-27:66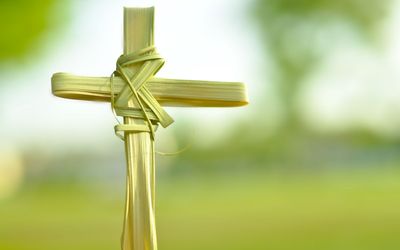 If only the passion narrative were a "choose-your-own-adventure" story where we could make the decisions of the many characters and craft a story that wasn't so heart-wrenching and tragic. If only our faith let us show up for Christmas and Easter to celebrate the glorious news of Jesus Christ's birth and resurrection. If only all the stories throughout the Bible revealed the joy and faith and hope and love so we could truly celebrate being Christians and share that happiness with others. If only we weren't so quick to run away or avoid the pain and suffering of reality.
May your hearing of the the Gospel reading today set the tone for and enrich your experience of Holy Week. It's important that we tell the story year after year. Like our Jewish ancestors who insisted on the telling of the Passover and the observance of holy days that united them as a people delivered, a people favored by God, we, too, must tell our story and observe our holy days: our identities depend upon it. There's insistence for all peoples and tribes to tell our stories so our children and our children's children know and never forget who we are and where we've come from; it makes us stronger, these common bonds. Sharing our stories within our families and outside our comfort zones has a way of keeping our connection with reality and our dependency upon the grace of God in check.
Consider this:
Sitting with a convict who has admitted to heinous crimes, I can give testimony to the power of God to forgive him, offer redemption and wholeness, if he prays to God with repentance because I, too, have sinned (even if it's nowhere near his crimes). He sees me as a prosperous woman in society. I must be living life right, so he wants to do what I'm doing. He wants God's favor to be with him, too, because up to this point in his life, he can't remember a time that didn't reek of the stench of smoke and mildew, sweat and blood, and other things he's trying to be polite and not mention. This makes me feel like I've done right, that I've shown him the right way. He's going to be a better person because I'm a better person. I'm going to make him more like me.
But what about this alternative:
Sitting with the same convict, I can listen . . . not just to his crimes but to all the burdens he's been carrying for some time: where the smoke and mildew came from, whose sweat and blood. Listen without judgment as he recounts the stories of his youth, revealing the dysfunction of his family and his parents' so-called friends and how he thought he found a sense of belonging with his friends in school, but it turned out to be a re-creation of another mess tied up in drugs and crime. His truth-telling unfolds like a never-ending stream, and I watch as he won't let the tears fall from his eyes until he sees my tears fall unbidden.
He looks down and away as the truth and tears stream together. All I can tell him is that the only one who knows the depths of his pain and suffering is Jesus. I won't dismiss his doubts; rather, I share stories of those who have also questioned, "Why me?" I remind him that it's okay to be wary of those who profess righteousness because even those who praised Jesus as he entered Jerusalem stood aside or joined the masses to have him crucified. Who's to say we would have done differently?
I hardly know what I'm saying because a force greater than myself is flowing through me to him. I trust it to be Spirit, and I feel it to be Love. It must be what living with the mind of Christ is like. I feel small and insignificant but feel like I will never let go of the faith that holds me in the embrace of the Almighty and makes me strong. It's not my strength that broke the floodgates of the wounded man before me. Only Jesus Christ, who persistently did what no one should have been able to do, what no one was supposed to do . . . Only Jesus Christ who faced, mostly in opposition, all manner of authority and power and still rode into town on a donkey without any sort of defense–not even fear . . . Only Jesus Christ who let us choose what would be done, knowing it meant showing us the way of suffering and death . . . Only Jesus Christ who "holds all things together" (Col 1:17) releases us into the freedom of true Love.
We deceive ourselves if we skip the arduous journey to the cross this week. Yes, we know the full arc of the story, but if we take some time to sit with the stations of the cross or just pray with this reading from Matthew, what do we find ourselves resisting? What do we want to skip over? What do we think we already know enough about? What are we already "right" about?
Jesus, who enters our world through a willing, unmarried young woman, who shows our world that things aren't always what they seem, brings the divine into our world right smack dab into the mess of things as they are and shows us all how to go through it. We'll die, yet we'll live. This is the way of the cross. This is our story. This is who we are as a Christian people.
In Matthew, we are told that Judas realized too late how pointless his betrayal was, how greatly he had been used to no good end. Whatever he thought he was getting out of the deal, it had been an illusion. Things weren't as they seemed, and he had so completely lost hope, he rejected life altogether. If only Judas had seen. If only Judas had been there. If only Judas had persevered through the despair, he, too, would have tasted and seen the glory of the Resurrection, the power of redemption, and hope everlasting while still in the flesh.
We can't let ourselves be fooled by illusion, by quick fixes or cheap promises that guarantee us a bypass over the pain and suffering of life. We can't succumb to normalcy of oppression and domination. We can't let ourselves forget our story, that it's our job, our responsibility, to live our lives in the way of Jesus Christ by the power of the Holy Spirit — because Jesus showed us that we can, with God's help.
It's going to mean reading even more of the Bible to tune our ears to hear God's guidance and remember God's power, mostly through the stories of those who walked the way before us. We have to talk to strangers, listen intently to our neighbors near and far, and get outside our comfort zones. Most importantly, living in the way of Christ means loving without judgment, loving and living without fear because we know who truly holds the power of Life.
As we walk through this week, we will open our hearts and minds to remember. We'll taste hope. We'll be afraid. We'll worry. We'll face death. And we'll sleep, knowing the Son will rise to greet us Easter morning. But we've got to go through hell first.