In my childhood bedroom, my twin bed was directly across the east-facing window.  The early morning sun would creep through the blinds, and I couldn't help but smile — mainly on those lazy days when I didn't have to go to school or rush off somewhere.
I am not a morning person usually.  I long to be.  I consider it a character flaw that I can sleep until 9:00, even with four kids.  I can stay up all night when duty calls, but I'll sleep much of the next day.  I love a nice nap.  I love my sleep.
But some days, I wake up before everyone else.  I move in the still silence of early morn, write, make a cup of coffee, and abide in the freshness of the day.
That didn't happen today, but I did make myself get out of bed before 9:00, get my shower and go outside to water the thirsty plants.  These hot ruthless days and teasing thunderstorms that don't wet much aren't doing the plants — or me — any favors.  I bless my day with at least a bit of productivity.  I tend to the living things (you know, the plants and flowers, cat, dog, kids, etc.) to make sure we'll all be okay.  I get rewarded with growth, purrs, smiles over mouthfuls of homemade granola cereal, and the kiss of sunshine glistening off the green foliage.  Or was that a hint of aura I saw?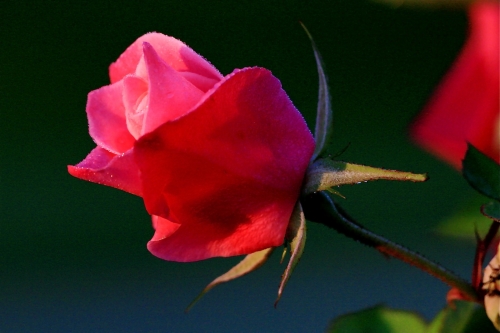 And I smile again remembering how my mom in her sleepy morning voice would come beaming into my room, "Good morning, Sunshine!"  On occasion, I get to pass along that morning delight to my daughters, to whom I've also passed along my character flaw.
Maybe if I focus on these morning delights, I'll get out of bed a little earlier.  Here's to hoping!
photo: everystockphoto.com by Randy Son of Robert; my garden roses are much more, well, not as elegant as this.  🙂