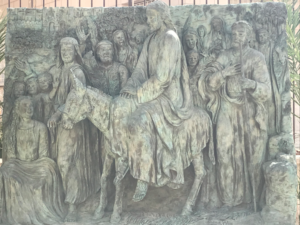 From the invitation into the observance of a holy Lent on Ash Wednesday, we knew that it would culminate in our observance of Holy Week. But what are we observing, exactly? Heretofore, our primary focus has been on ourselves, focusing on our experiences, especially in regard to our sacrifices or additions that bring us to mindful attention to God's presence in our lives. In Holy Week, given our cultural tendencies, we might place most of our focus on the crucifixion, the betrayal that led to it and the violence of it. But we are given a holy week to take in the story, even if we try to cram as much of it into today as we can in case you don't come back until next Sunday. When we focus on the holiness of this week, let us turn our attention to the acts of love shown to us by Jesus.
We begin this week with our palms raised high with our cry of "Hosanna!" ("Save us!" or "Savior!") We look to Jesus as Savior, the one who will save us, deliver us. He willingly goes before us, knowing that we hope but don't fully understand.

Monday's gospel lesson revisits the account of Mary anointing Jesus' feet, which he lets her do and chastizes Judas for chiding her. Love often looks like calling out truth, be it beautiful or painful.

On Tuesday, Jesus' words almost implore his followers to understand who he is and what is about to happen; he's trying to prepare his followers, to give them understanding and insight as the time draws near. As frustrated as he may be, Jesus never forces anyone into understanding or submission.

Wednesday night, at the last of our Lent Soup & Study events, we will again have an agapé meal, a simple Eucharist around the table preceding our meal together. For us it's a way we draw close to the experience of a meal between Jesus and the disciples, a feast rooted in love. In the gospel lesson that night, Judas betrays Jesus, yet Jesus continues to affirm that God has been glorified in the Son of Man. Jesus doesn't prohibit Judas from doing what he has chosen to do, but many of us know the betrayal of a friend or loved one and how hard it is not to be attached to what they are doing, especially if it is destructive; it's an extreme act of love.

Maundy Thursday we begin the Triduum by receiving the great commandment from Jesus to love one another, and we practice by washing one another's feet as Jesus showed us, ending the service with the stripping of the altar. In our timeline, this might be the night Jesus was arrested, neither resisting nor condemning anyone.

Good Friday we observe the crucifixion of Jesus, from which he neither flees nor complains. Some of us will walk the Stations of the Cross to encounter more moments along the way when Jesus interacts with others, silently though it may be. Some may choose to make their confession as we, like Peter, realize that we have denied Jesus in thought, word, or deed. We will gather Friday night for the service that includes the recitation of Psalm 22 — "My God, my God, why have you forsaken me?" We will have a cross before us, and we can choose to bow before it in veneration, recognizing that Jesus' ultimate act of love was his death.
What does it mean for us that we recount Jesus' acts of love and remember that our redemption comes after a great suffering?
If we pay attention to our dreams, some of us have recurring dreams. They might be the exact same dream or some variation on a theme. I'm not trained in Jungian psychology or even in dream work, but the little I have dappled in both, dreams have something to teach us, something that is often nestled deeply in our subconscious. A recurring dream could suggest that we are experiencing a similar situation over again–like stress expressed in a dream of being in high school again and not finding your locker or schedule or being late or unprepared for a test (yes, that's one of mine). A recurring dream could also indicate an insight that we're being offered but haven't given it enough attention to discern what it is that we have to learn.
Holy Week for me–increasingly so since I've been ordained–is much like a dream, and this year the words of Paul resonate with me like the voice of the narrator in a dream. Maybe it has something to do with the Bible study, where we're taking our time reading Romans. (The more time you spend with anyone, the more they can grow on you, right?) Again, Paul is writing from prison, and he sends this letter to the Philippians. Someone described the portion we read today as a love song since it shows some of the characteristics of love songs from the time. There's union, a union not to be exploited, and an emptying of self, all of which are ideals in a mutually loving relationship.
But this isn't a romantic love, the love between Jesus and God or Jesus Christ and us. Paul tells the Philippians to be of the same mind as Christ Jesus. If we are of one mind with Jesus, our thoughts, words, and deeds will present in tender love and humility, in an endurance of suffering, and in enduring hope–all characteristics present in Jesus' acts throughout this week. In all that we do, can we have Christ's mind about us? Can we be at one with Christ? As Jesus emptied himself to experience fully the human condition even through suffering and death, is there something we need to empty ourselves of so that we can be faithful to God, follow Christ, and be who God created us to be? This kind of faithful obedience underscores the prayer from the Gospel according to Luke where Jesus says, "Father, if you are willing, remove this cup from me; yet, not my will but yours be done." Giving ourselves to obedience to God and God's will doesn't mean we don't make conscious decisions.
The invitation to a holy Lent and even into Holy Week is just that, an invitation. We could, like many others, not observe a thing, and our lives would continue. But for those of us who have given thought and awareness to the presence of God in our lives, meeting that with the recognition of Jesus' acts of love might illumine for us how we can further reveal to others the presence of Christ in our lives, in all our suffering and all our hope.