After promising myself I would get started in July, I'll have to settle for starting in October.
The first gift gives me practice at switching colors while knitting, which will be good preparation for another scarf of many colors and great length.  🙂  Other gifts this season will include pottery, quilts, sewing and baking as we continue in developing our tradition of handmade gifts and quality time together.  I hope for you much the same in the upcoming season.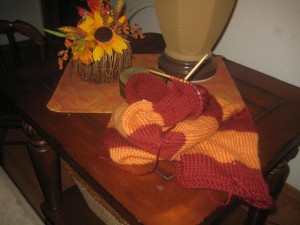 For this project, though, I give thanks for Charmed Knits.  So far, though I've been working on it openly, none of the kids know for whom the scarf is being made.  (They have figured out it is a scarf.)
I highly recommend the double-layer scarf done on the circular needles.  There's something highly comforting about knitting every row; it's downright meditative.
If I don't think it will give the gifts away, I'll share photos of other gifts as they're in progress.
Enjoy!