The skies are gray this morning, but the weather forecast says the rain doesn't come until tonight. That rain promises to come with storms. The darkening of the skies calms me somehow, encouraging me to retreat a minute, get myself in order, and focus on the holy moments at hand.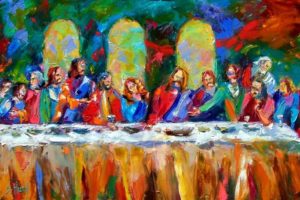 This morning the scriptures recall how some people thought the voice of God was thunder, while others clearly heard words. Tonight at our Agapé meal we'll hear Jesus send Judas out to do that which he must do. We know with Jesus that Judas sets out to betray him, but others think he's going out for supplies for the coming festival. So much of what we understand–or think we understand–is left to our perspective and interpretation. It might be how we understand written words or how we perceive the present moment, and what we experience is true for us. Simply because we see something as true doesn't mean it is True, though.
The turmoil we read about and the arguments we observe or endure arise from people standing their ground for what is true for the individual. At our best we try to understand everyone's point of view, where they are coming from, trying to imagine being in their shoes even if we completely disagree with them. One might call this how we exercise empathy. I believe empathy exercised with humility helps us better see the fuller picture of what is real, granting us a bit of objectivity and giving us a chance to increase our personal knowledge and understanding.
From this broader perspective, we might hear the voice that also sounds like thunder and marvel with others at the experience of God's presence. We might see the exchange between Jesus and Judas as meaningful and look back on it later with clarity. We might see our neighbors, be they rich or poor, as people struggling with life or rejoicing in small moments. In all circumstances, even as we make our first impressions and snap judgments, we leave critical judgment alone and focus on the only person over whom we have even the slightest control–our self.
Without this focus and work for and on the individual for the benefit of better relationships with one another, we lose sight of the whole. A recent story I heard said we're truly at risk of losing empathy and retreating into separate camps, evidenced in our increasing polarity socially, politically, economically, etc. From where I see it, the grace of God has no boundaries except those that we construct ourselves. It truly is up to each of us to discern whether we want to stay in relationship with one another, how best to do that safely and for the benefit of the whole, and how we glorify God in the process or continue to betray God.