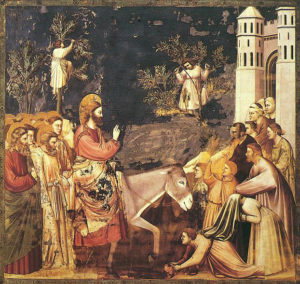 Morning Prayer this morning revisits what inspires the procession on Palm Sunday:  Jesus' entry to Jerusalem. The Eucharistic gospel lesson revisits the dinner party where Mary anoints Jesus' feet with fragrant nard, much to Judas' annoyance. Reflection offered by Plough points toward Jesus' overthrowing the moneychangers in the Temple.
All the while, I wonder where I am this Holy Monday.
Interestingly, I find myself in relation to the crowd.
As news of the Game of Thrones premier covers the news/radio this morning, I realize I'm not "in" with that crowd. Going to pick up a sold-out book club book, I realize that there's the potential to meet a new crowd of folks locally. Marveling with others at the incredible redbuds and all the spring blossoms and sprouts, I am most definitely one among many getting gardening fever, more than ready to dig in the earth and tend to whatever I can get to grow (or at least dream about growing!).
But when it comes to Holy Week, where I am is one among many in a crowd straining to catch a glimpse of Jesus, hoping to witness if not be a recipient of his acts of love.
All the effort of my seeking contrasts with the sheer presence of Jesus' being. Aside from the outburst at the Temple, I imagine Jesus steadily moving forward, carried by the will of man yet sustained by the power of God which is determined to reveal something incredible, surpassing all understanding. For all the shouting of the crowd, be it with "Hosanna!", at a crowded dinner party, or in the general ruckus of a bunch of people, Jesus's words and even his presence in silence come as a measured and welcome calm however painful it may be.
As part of the crowd, unknowing of God's ultimate plans, I am reminded to seek those moments of peace and calm, even in the midst of the storms. I am called to follow those distractions that promote a healthy lifestyle and true peace of mind, like taking the dog for a walk, planting a few plants, and making sure we all consume plenty of water. Why? Because ultimately I believe that as Jesus showed us in his life, death, and resurrection, it's about love, love of the true kind. True love nurtures who we most fully are, which is who God created us to be. So acts of love offered to myself will be life-giving, nurturing. Once I've given these loving acts to myself, I might be able to extend them to others.
Those acts might look like sharing in mutual love and affection, like Mary anointing Jesus' feet or sharing a cup of tea with my kids after school. It might look like calling out systems of injustice and signing a petition or calling on legislators. It might look like being part of a crowd, or it might look like being the outsider, caught in all the emotions of each.
I wonder what a "crowd" of people who are fully and authentically present might look like for a moment before I think of all of us gathered at church. That crowd includes those present, those who wish they could be there, and anyone else willing to come. It's a humble, vulnerable, loving bunch, with so much hope. It's the kind of crowd that extends beyond the church, too, and not often in the mainstream but at the margins. It's a crowd that's at risk of getting pulled into the mass mentality, but it's also a crowd willing to repent when it's gone astray. It's a crowd that is yearning, straining to see Jesus, and I realize I am where I need to be.