2 Samuel 11:26-12:13a  | Psalm 51:1-13 | Ephesians 4:1-16 | John 6:24-35
Reading to our children when they were younger reminded my husband and me about our favorite stories when we were early readers. Some of my favorites included a Disney story about Goofy breaking a curse, the Amelia Bedilia stories, and one of my favorite picture books Strega Nona by Tomie DePaola. "Strega Nona" means "grandma witch," and in the story she's the person everyone in the Italian village goes to see when they need healing or a cure, even the priests and nuns. In this fantasy story, she uses potions and spells to work her magic. She takes on an apprentice of sorts who ends up mis-using a spell he heard her say. He wanted to be praised like Strega Nona, but he missed a key ingredient.* Fortunately, Strega Nona arrives home just in time to save the day.
My husband's favorite story is naturally much more realistic. You've probably heard the folktale "Stone Soup." Three weary travelers come to a town, and the villagers predict that they're going to be hungry and beg for food: so they hide. But these travelers are clever, and they make a big show of preparing their special soup, for which they proclaim there will be enough for everyone. Someone brings out a big pot and firewood. They boil water and—very dramatically—drop in the three special stones.
At each taste, the soup is delicious but could do with just a little more of something–from salt and pepper, to carrots, to potatoes, fish, and barley. Each time it's another villager who is willing to come out of hiding to contribute to this obviously mouth-watering soup. By the time the last ingredients have been added, of course there's more than enough for everyone. The whole village has contributed to the concoction, and the strangers share the feast with everyo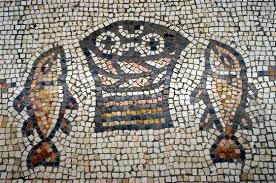 ne before the night is done.
Whether we read the story of Jesus feeding the 5,000 as a fantastic miracleor as a miracle that everyone shared what they had to make for an abundant feast for all, there's no doubt that the gift revealed something about the grace and glory of God. And it gets us right in our gut.
We all need food. If we're too hungry, we can't focus. We need to be fed not only spiritually but physically. Last week, Jesus taught many things to the multitudes, and this week we revisit the scene and know that he also fed the people—in body and spirit.
But he doesn't do it alone, even though he could. Like the clever travelers with their stone soup, Jesus knows what he will do from the beginning, but he includes his disciples in the wondering. "Where are we going to get food?" What is the cost calculation? How can we make do with what we have? Ah, look what that child has. The gift of God's grace is so often in the unexpected, among the least of these. We get to think outside the box. Like our lesson last week, we really sometimes just need to step back and let God work in our midst, let God's will be revealed. It is God's will that there be enough for everyone, which there is, but everyone has to participate and cooperate for there to be enough to go around, yes?
Thank God for all the food banks, pantries, kitchens, trucks, and volunteers that work to feed the masses today, especially considering that about 19% of people are food insecure in Northwest Arkansas. One in four children are hungry or food insecure right here in our communities. One.in.four.
It was a boy that the apostle Andrew spotted who had loaves and fishes. Jesus looked to the child with the five barley loaves and two fish. Jesus took the loaves and gave thanks for them and distributed them. He did the same with the fish. He gave thanks, and he gave them to all who were seated. This pattern is familiar to us, this giving thanks, which the Greeks call eucharistia, and from which we derive our word "Eucharist," our Great Thanksgiving.
What if that boy was one of our four children who is hungry? What if that boy had been gifted those treasures when he was hungry? What if that boy had hidden like the villagers at the beginning of the stone soup story?
Fortunately for all, the boy gave his gifts to Jesus, who then took the food and multiplied it for the masses. While it's not the same, I get a similar feeling of such a miracle when I attend the Feast of Grace at Christ the King on the fourth Wednesday (like this last week when our loaves and fishes looked like hot dogs and buns), and I know it will feel that way when we go to HomeTowne Suites this Tuesday. We give thanks to God for the gifts that have been given and shared, and we feed those who are hungry, all to the glory of God. There's enough.
Danger lurks wherever we hoard our gifts or dare to claim the glory for ourselves. If we hide our treasures, we hurt our neighbor who suffers in hunger. If we seek glory or manipulate circumstances for our benefit, we not only hurt others but also ourselves (such was the case for the young apprentice in Strega Nona, and it's definitely the case with David and Uriah). When Jesus realized the people were going to force him into the role they wanted, expected, or even hoped for, he withdrew. He left to the mountain. The people wanted a worldly deliverer to save them from Rome; they wanted a messiah. But the people did not yet understand God's glory and grace revealed to them, even if they had just experienced, very tangibly, a taste of it for themselves.
In case we, too, miss the revelation of God in the feeding of the 5,000, we get another sign of the presence of God when Jesus walks on water. Is the miracle solely that he walks on water, about four miles worth? The disciples in the boat are afraid as the storm rages around them. Jesus pronounces: "It is I; do not be afraid," recalling to mind the words of God to Moses: "I am." Jesus declares His presence, and immediately they arrive at their destination, safely. Again, the grace and glory of God has been revealed on God's terms and in a very tangible way. These are signs of God in the midst of the people. These are signs that Jesus is God incarnate, Word made flesh. This is Jesus living into his mission: to make God known.
These next few weeks in our lectionary, the Gospel lessons will focus on Jesus being the Bread of life. We'll see how many ways we depend upon Jesus Christ as our source of life. But this week, we get to delight in the memorable stories of Jesus doing amazing things with grace and in glory for no other reason than for revealing God to the people who are seeking something. The beauty of these stories is that they still happen today, when we gather around a table, when we feast together, giving thanks to God. Certainly we, too, are carried through the storms in our life in ways that in hindsight we have no idea how we made it through but for the grace of God revealed to us in the kindness and help of others and strength and perseverance we didn't know we were capable of; God is, and God is with us.
It may be easier to believe that Jesus performed miracles at a particular place and time and that they just can't happen today; the miracles are just really great stories for us to remember Jesus in his glory. But I think that mindset severs us from divine imagination and limits our hope and possibilities. Let us not forget Paul's prayer to the Ephesians, a prayer equally suited for us:
"I pray that . . . Christ may dwell in your hearts through faith, as you are being rooted and grounded in love.  . . . I pray that you may . . . know the love of Christ that surpasses knowledge, so that you may be filled with all the fullness of God," for truly it is God's "work within us (that) is able to accomplish abundantly far more than all we can ask or imagine."
Amen.
*The missing ingredient from Strega Nona is the three kisses the grandma blows over her clay pot to end her work.