1 Samuel 17:57-18:5, 10-16 | Psalm 133 | 2 Corinthians 6:1-13 | Mark 4:35-41
After a long day of work, whether it is in the home with the family or outside the home at our job, most of the time we are ready to relax, be still, and rest a while. Maybe you are ready to go to a party every night, I don't know, but for me, I need lots of quiet time. I hope you get some quiet time, too.
After a long day of being with the crowds, Jesus said it was time to go to the other side, to go across the sea. I imagine his disciples and companions breathing a sigh of relief and willingly boarding the boats to go across to rest even though it is evening time and they have not made preparations, going just as they are. These are good and faithful disciples. They are giving up everything to follow Jesus. They willingly go.
Though the Sea of Galilee is not huge–it is more like a lake, really–when you are in the middle of it, you are vulnerable. On my trip to the Holy Land, we took a boat ride onto the sea, in a boat thought to be somewhat similar to the ones the disciples would have had. It was a windy day. My friends had told me the last time they were there that a strong wind had blown up when they got out to the middle of the sea. Those in charge told them that just happens sometimes, particularly in that place. Fortunately for us, all I had to do was hold on to my hat. Those on the boat with Jesus were getting pounded by the waves, the water at risk of capsizing the boat. It was a great storm, and they were afraid. They were probably shouting at each other, and all the while, Jesus slept on his cushion at the stern.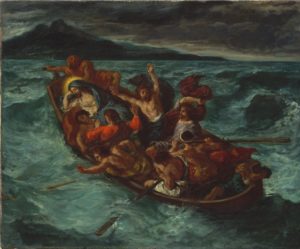 When we are in the storms of life, when we are worried about finances or concerned for our children, when we fear that our livelihood is at risk or our safety is threatened, when we are really sick–physically or in our hearts–and don't know if we'll make it to another day, we might feel like God is not listening to our prayers. It might feel like Jesus is asleep in the middle of our stormy life and not listening to our cries.
But he does hear us. He never leaves us alone. He never leaves us without peace and comfort.
The storm rages until the disciples finally call upon him to wake him up, it seems. Maybe Jesus was waiting until they asked him for help. Maybe they thought they could handle this raging storm on their own. But they could not.
In our baptism, each of us is given power of the Holy Spirit to do great things in our lives. Each of us has been created to fulfill God's will in this place, in this world. We are perfectly loved by God so that we might share that love with everyone we encounter. But we do not do it on our own.
David, as a young man, did not defeat Goliath on his own. Without God he would not have won. He grows into a great king and does amazing things, having God's blessing with him. But when he follows his own will, he gets into troubled waters and has to repent and return to the LORD. We might not be kings, but we also know when we go wrong, when we have to correct our ways, and we do so thanks to the grace and mercy of God.
Paul also lists some of the characteristics of what we face as servants of God. The church in Corinth is going through hard times. Paul reminds them that following Jesus is not always easy. They may have to endure affliction, hardships, calamities, beatings, imprisonments, riots, labors, sleepless nights, and hunger. My heart is heavy as I read this list because we know that there are faithful souls who are enduring this even today–not just in Syria or Sudan but also at our border. We have to show endurance, and we–as they–endure with purity, knowledge, patience, kindness, holiness of spirit, genuine love, truthful speech, and the power of God. In God, these are eternal. They are as bright and new today as they were at Creation, as they were at the Transfiguration and the Resurrection. We have hope through the storms because we are not defenseless. Our greatest weapons are righteousness, honor, goodness, truth, life, joy, abundance, and eternal life.
When the waves are crashing in, and we fear for our lives, we are at risk of closing in upon ourselves. Fear has a way of shrinking us and sinking us into darkness.
But what does Paul tell the Corinthians to do? He speaks to them as if to children and tells them to
"open wide your hearts also."
Do not be afraid. Open wide your heart in love of God. Open wide your heart in love of Jesus, and be not afraid to call upon him for help in the middle of the storms. With your heart open wide for love of God, it is easier to open wide your heart to love of neighbor, even those for whom it is not so easy to like; we can love them, too, with God's help. God's love knows no boundaries. It is especially when we are about to cross over the boundaries that storms may rise. When we cross over those boundaries and troubles arise, we especially need the presence of God in our midst, and we need the calm and peace that only Jesus Christ can give.
+ + +
Después de un largo día de trabajo, ya sea en el hogar con la familia o fuera del hogar  en nuestro trabajo, la mayoría del tiempo estamos listos para relajarnos, estar quietos y descansar un rato. Tal vez estés listo para ir a una fiesta todas las noches, no sé, pero para mí, necesito mucho tiempo tranquila o en silencio. Espero que tengas un tiempo tranquilo o silencioso, también.
Después de un largo día de estar con la multitud, Jesús dijo que era hora de ir al otro lado, cruzar el mar. Me imagino a sus discípulos y compañeros dando un suspiro de alivio y abordando con gusto los botes para ir a descansar a pesar de que ya era tarde y no se habían preparado, ellos se van así como están. Estos son buenos y fieles discípulos.  Están abandonando todo para seguir a Jesús. Ellos van voluntariamente.
Aunque  el Mar de  Galilea no es enorme,  en realidad se parece más  a un lago, cuando estás en  medio de él, eres vulnerable. En  mi viaje a Tierra Santa, tomamos un paseo en bote hacia el mar, en un bote que se pensaba que era similar a los que tendrían los discípulos. Fue un día de mucho  viento. Mis amigos me dijeron la última vez que estuvieron allí que hubo un fuerte viento sobre ellos cuando fueron en medio del mar. Los que están a cargo les dijeron  que eso sucede a veces, particularmente en ese lugar. Afortunadamente para nosotros, todo lo que tenía que hacer era sostener mi sombrero. Los que estaban en el bote con Jesús eran golpeados por las olas, el agua que corría era un  riesgo que podía volcar el bote. Fue una gran tormenta, y tenían miedo. Probablemente se estaban gritando el uno al otro, y todo el tiempo, Jesús dormía sobre su almohada en la parte d atrás del Bote.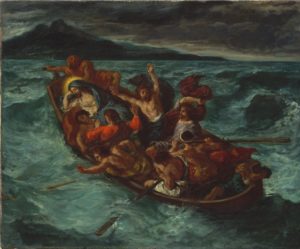 Cuando  estamos en  medio de las tormentas de la vida, cuando nos preocupan las  finanzas o nos preocupamos por nuestros hijos, cuando tememos  que nuestro sustento esté en peligro o nuestra seguridad se vea amenazada,  cuando estamos realmente enfermos, físicamente o en  nuestros corazones, y no sabemos si llegaremos a otro día, podríamos sentir que Dios  no está escuchando nuestras oraciones. Podríamos sentir que Jesús está dormido en  medio de nuestra vida tormentosa y no escucha nuestros gritos.
Pero él lo hace. Él nunca nos deja solos.  Él nunca nos deja sin paz y sin comodidad.
La  tormenta  arrecia hasta  que los discípulos finalmente lo llaman para que se despierte, al parecer. Tal vez Jesús estaba esperando hasta que le pidieran ayuda. Tal vez  pensaron que podrían manejar esta tormenta furiosa por su cuenta. Pero no pudieron.
En  nuestro  bautismo,  cada uno de nosotros recibe el poder del Espíritu Santo para hacer grandes cosas en nuestras vidas. Cada uno de nosotros ha sido creado para cumplir la voluntad de Dios en este lugar, en   este mundo. Dios nos ama perfectamente para que podamos compartir ese  amor con todos los que nos encontramos.  Pero no lo podemos  hacer solo con nuestra propia fuerza.
David,  como un  hombre joven,  no derrotó a Goliat  con sus propias fuerzas. Sin Dios, no hubiera ganado. Se convierte en  un gran rey y hace cosas increíbles, teniendo la bendición de Dios con él. Pero cuando David sigue su propia voluntad, se mete  en aguas turbulentas y tiene que arrepentirse y volver al SEÑOR. Puede que no seamos reyes, pero también sabemos cuándo nos equivocamos, cuando tenemos que  corregir nuestros caminos, y lo hacemos gracias a la gracia y la misericordia de Dios.
Pablo  también  enumera algunas  de las características  de lo que enfrentamos como  servidores  de Dios. La  iglesia en Corinto está pasando por tiempos difíciles. Pablo les  recuerda que seguir a Jesús no siempre es fácil. Es posible que tengan que soportar aflicciones, dificultades, calamidades, palizas, encarcelamientos, disturbios, trabajos,  noches sin dormir y hambre. Mi corazón está pesado al leer esta lista porque sabemos que hay almas fieles que están soportando esto incluso hoy, no solo  en Siria o Sudán, sino también en nuestra frontera. Tenemos que mostrar resistencia, y nosotros, como ellos, soportamos con pureza, conocimiento, paciencia,  bondad, santidad de espíritu, amor genuino, palabras veraces y el poder de Dios. En Dios, estos son eternos. Son tan brillantes y nuevos hoy como lo fueron en la Creación, como  lo fueron en la Transfiguración y la Resurrección. Tenemos esperanza a través de las tormentas porque no estamos indefensos. Nuestras mejores armas son la justicia, el honor,  la bondad, la verdad, la vida, la alegría, la abundancia y la vida eterna.
Cuando  las olas  se estrellan  en nosotros y  tememos por nuestras  vidas, corremos el riesgo  de encerrarnos en nosotros mismos. El miedo tiene una forma de encogernos y hundirnos en la oscuridad.
Pero qué les dice Pablo a los corintios que hagan? Él les habla a ellos como a niños y les dice que
"abran también sus corazones".
No tengas miedo. Abra de par en par su corazón en  amor de Dios. Abra de par en par su corazón en amor por Jesús, y no tenga miedo de pedirle ayuda en medio de las tormentas. Con el corazón abierto para el amor de Dios, es más fácil abrir de par en  par su corazón al amor al prójimo, incluso a aquellos a quienes no es fácil amar, también podemos amarlos con la ayuda de Dios. El amor de Dios no conoce fronteras. Es especialmente cuando estamos a punto de cruzar los límites es cuando las tormentas   pueden aparecer. Cuando cruzamos esos límites y surgen problemas, es cuando especialmente necesitamos la presencia de Dios en medio de nosotros, y necesitamos la calma y la paz que solo Jesucristo puede dar.