Isaiah 40:21-31 | Psalm 147:1-12, 21c | 1 Corinthians 9:16-23 | Mark 1:29-39
When Cathy Luck was here last week, sharing her work with Oasis NWA, she asked how many people were familiar with Becca Stevens. I was surprised to see not everyone knew who she is. If you already know this, bear with me, but there are some things in Episcopal culture everyone needs to be aware of. Becca Stevens founded Magdalene House in 1997, a house of refuge and healing for women who have been trafficked or addicted. Now it's called Thistle Farms, which started out as the social enterprise side of things, selling oils, cards, and body products made by the women themselves. Now it's over a million dollar industry and has expanded to include many other products from other countries, focusing on fair trade goods and teas made by women so that they can support themselves, their families, and their communities, too. Meanwhile, the model of the original Magdalene House has been replicated throughout the country, including Oasis here in NWA, Serenity House in Fayetteville, and Coming Home in Little Rock (which is still in development). The unaffiliated religiously and non-governmental model focuses on assuring that the environment is safe, non-judgmental, and holistic. A woman can stay up to two years, spending the first getting the health treatment she needs and the second to continue to heal and to build up her self-confidence and job skills.
A sexual assault survivor herself, Becca knows that healing is a monumental effort, and she said that reading the Gospel, she couldn't help but hear over and over again how it was God's love that brought about healing. So when she started selling oils, it was with the intent to heal not magically but with the intention of love and care, with the practice of unction in mind, with anointing those whom we love. How better to put into practice God's message of love and healing? The motto and the title of her most recent book is "Love Heals"–plain and simple.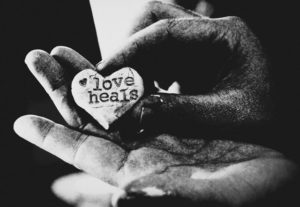 The gospel stories affirm the simplicity of God's power to heal. In fact, there's a pattern to the healing stories, just like there's a pattern to a prophet's call in the Old Testament. As we hear in Mark's narrative today,
1) there's the description of illness: Simon Peter's mother-in-law has a fever, apparently a pretty bad one.
2)Then there's a request for healing. Simon, Andrew, James, and John hurry back to Jesus to tell him about it. (Like when I tell my kids their room is a mess, I'm really telling them to pick it up.)
3)Following the request, there's action done by the healer. Jesus takes the woman by the hand and lifts her up.
4)As means of affirmation, the fourth step in the pattern provides evidence of restored health. After the fever's gone, she's healthy enough to begin to serve.
So if we take this pattern and apply it to our lives, I agree with steps one and two. We identify our illnesses and make our requests, our intercessions, praying for health to be restored. But at step three, when in the Bible every time Jesus intervenes, health is restored (even if it takes a second try), what do I do with the times healing doesn't come, when prayers aren't answered? Because our model is that God has the ability to make all things new, to intervene on our behalf. When the good results come or good things happen to us, don't we say, "Thanks be to God"? I know I do.
But true healing isn't as simple as that. Just as true love isn't as simple as it sounds. God's love for us is abiding and unconditional. God's love affords us–all of us–free will. God's love, God's healing participates with us, in relationship. And always, when we are in full relationship with God, we are moving toward our fullest restoration into God's image. If that can happen in a miraculous recovery or if that can happen in death, I imagine that one is not greater than the other, if we have the fullness of understanding that God has. We hurt and anger and fight and doubt and turn away because sickness and death are not what we want. We don't want the suffering and pain. The words of Julian of Norwich sound trite when she says, "All shall be well," just as when someone tells us everything will be alright when our whole world is crashing in on us: everything is not well and alright. We may even scream it in rage at the well-intentioned speaker. But Julian's "All shall be well, and all shall be well and all manner of things shall be well" comes from a deep well of wisdom, prayer, contemplation, and practice. She knew it. She knew what being healed meant in body and spirit, and it was well with her soul. Times of tribulation truly try the sagest of souls, for when we are wounded or in danger, our defenses are up, our ego on watch though completely vulnerable. It's painful to watch a wounded animal. Humans aren't that different when we're deeply hurt. What we need to be fully restored isn't always diagnosable or treatable, if there even is a cure. But the peace of mind, body, and spirit that Julian speaks of connects to the healing love of God that guides us through the times we wonder if we'll make it through. And all the while, whether we realize it or not, God is ever present, loving us, guiding us, healing us in ways we can't even comprehend, let alone name.
When we are healed in a manner that allows for evidence of our restoration, what is it that we do with our lives? The mother-in-law gets up and gets to work, serving her guests. As a feminist, this might make you cringe a little bit. Shouldn't she be getting rest? But so full and complete is her recovery that she is able to fully live into her honor as the head woman of the household. A servant or Peter's wife could have done the work, but this was an important event, Jesus and all the disciples gathered in her home. It would be like me as a young woman offering to make my grandmother's chicken dressing at Thanksgiving. She wouldn't have dreamed of it as long as she was well enough to do it.
Today, a 30-years sober alcoholic might faithfully facilitate a meeting, carry a coin, and mentor someone new in recovery. A cancer survivor might lead support groups. The bereaved share in grief groups. Former sex slaves share their story to prevent others from being kidnapped and trafficked. Parents who lose a child advocate for legislation regarding gun violence, car seat safety, bullying . . . the list goes on and on.
However complicated and individual the story, it does appear that the pattern is simple: love heals. But it's mighty hard.
It's hard to say what's hurt, sick, or broken.

It's hard to ask for help.

It's hard to be at peace when the action we're asking for isn't visible or visibly doesn't happen, to trust that God is at work loving and healing us.

It's hard to live into the fullness of health when things still seem hurt, sick, and broken.
It didn't seem to be incredibly easy for Jesus, either. He retreats to a lonely place and prays, knowing full well the weight of everyone hunting and searching for him with all their dis-ease. But he had shown them hope, brought his message of peace, and proclaimed the gospel message: that the kingdom of heaven had come near. He offered them words but also showed evidence in his healings.
In our own ways, may we be so empowered, so loved, so healed.