1 Samuel 3:1-20 | Psalm 139:1-5, 12-17 | 1 Corinthians 6:12-20 | John 1:43-51
Back in November (Proper 28) was when we had to opportunity to look at Judges as our Old Testament reading, when Deborah is named as a prophet of the time and when Jael made a surprising move involving a tent peg and Sisera's skull (and that's not even the worst thing accounted for in the time of the judges). Now, in the season after Epiphany we hear a bit of Samuel's story. I say "a bit" because his life from before conception to after his death is accounted for in the Bible, which is quite a rarity. This also the transition from the period of judges (which wasn't working out so well for the Israelites) to the rise of the monarchs.
Today we have this opening sentence setting the scene for us, a brief yet telling commentary of the time.
"Now the boy Samuel was ministering to the Lord under Eli. The word of the Lord was rare in those days; visions were not widespread."
Samuel, a young lad, ministers to the high priest Eli, who is all but blind and depends greatly upon Samuel. And the word of Lord–revelations of God–were rare; visions or prophecies were equally sparse. Since we're reading the Word of God, a God of abundance and in our season when Christ Light is manifest, our sense of anticipation builds. What happens next? We know it's the LORD calling out to Samuel in the night, but Samuel,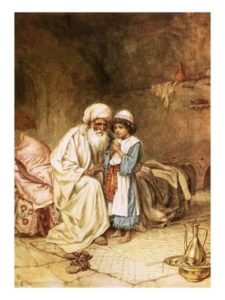 naturally thinks it's his master.  Even the High Priest isn't aware of the LORD's voice, as infrequent as it had become, until the voice has called out three times. The faithful master gives his "son" instruction on heeding the voice of the LORD, little does he know it will indicate his own ruin. For Eli's sons had blasphemed God, disobeying laws regarding how fat and meat are separated and offered to God before they are consumed. It seems a little outrageous to us, to be judged for such a minor offense, but these were the commandments the faithful were to abide by, and Eli as a High Priest has standards against which to be held. He, like most parents these days, loved his kids, and probably chided them like I do mine for their transgressions, but things were different then. The LORD proclaimed what he was going to do, and Samuel was to be the one to deliver the news. Samuel, who has heard the voice of God is, as his first task as prophet, to deliver the news to Eli. Was this call a joy to Samuel? Was this something he looked forward to? Don't you know the weight and dread he carried to the next day when Eli convinced him to share? And Eli, good and faithful as he was, accepted the LORD's judgment, not arguing or protesting, showing us the way of obedience. Similarly, we see Samuel assuming his call, and we are told that he becomes a trustworthy prophet as he continues to heed the voice of the LORD, bearing the burden of responsibility faithfully, obediently.
Our gospel shows us a different call commencing. Jesus decides to go to Galilee and finds Philip, telling him to "Follow me." I'm sure it was Jesus' charisma and presence that compelled Philip to follow, but Philip finds Nathanael and tells him that they need to follow Jesus of Nazareth, the one of whom prophecies have been told. Nathanael protests: "Can anything good come from Nazareth?"
Now, in the news lately there's been lots said about countries from which the outcome would be questionable. I've seen memes already generated calling Nazareth one of these kind of countries.
Philip doesn't react much, though. He just says, "Come and See."
Isn't that what we have to do? We can't tell someone how they're going to experience Jesus. We can love our experience at church and feel like it's helping us live a godly life, but we can't describe or even pretend to know how someone else will experience Christ here. They have to come and see for themselves. First, they have to be invited. (That's our ongoing responsibility, to invite others to come and see the presence of Christ in our midst!) Thankfully, Nathanael does go with Philip, and what happens next? Nathanael calls Jesus "Rabbi," "Son of God, "King of Israel."
What happened in the point between saying "What good can come out of Nazareth?" to "Rabbi, Son of God, King of Isarel"? Nathanael encountered Jesus and something transformative happened, something we can't understand except that it was some kind of epiphany, some kind of realization about God being manifest before him. That's the kind of thing we expect in the presence of Christ, but where do we see that around us today? Maybe we are attuned to see it all the time, but maybe not.
A couple of weeks ago, comedian Sarah Silverman was called something profane on Twitter. It would have been completely normal for her, a witty comedian, to fire back an intelligent insult, invoking the supporting rage of her followers and erupting a flame war of epic proportions. No one would have thought much about it.
But she didn't.
Sarah said something to the effect of: "Behind all your hate and rage, I see pain. I see you just trying to get kicked off Twitter." She took a moment before quipping back to him to look at his profile and saw that this was a desperate, pain-riddled guy who was on the path to further isolate himself and seek further into despair. And she wasn't having it. She identified with him and invited him to see a different way, to choose love, to have a little hope. And she offered tangible hope to him, helping him out tremendously, networking him with resources in his community. She didn't have to. When he asked why she was offering him hope, why she was offering to help him, she basically admitted that she didn't know but that maybe it was something in his eyes. I looked at the guy's profile. I'm not sure that I would have reacted the same way she did. I might have just chosen not to react at all, turned a blind eye.
But that's always a choice we have when we are called out. How do we react? Do we hear it at all? Do we understand what's being asked of us? Do we reply with a smart-alec response? Do we choose love? It's up to us, but however we reply, I'm not sure we always perceive that we are in the presence of God or that we have the eyes of many paying attention. We just don't realize the importance of our lives in the scheme of things. It takes someone who knows us fully, intimately, someone who knows our rising up and going down, someone who knit us in our mother's womb, someone like God. God knows us intimately, loves us deeply, and calls us always to live fully into the life for which we were created. It's up for us to discern how we are to do this, and it's not going to be easy. But it's up for us to decide what it looks like to choose to heed the voice of God, to follow Christ, and to choose love.