Ezekiel 34:11-16, 20-24 | Psalm 100 | Ephesians 1:15-23 | Matthew 25:31-46
In 1925, Pope Pious XI established Christ the King feast day in the Roman Catholic Church as a response to rising secularism and especially as a counter to the Mexican government that was demanding ultimate allegiance. Those of us following the lectionary get the associated propers to remind us to whom we owe our ultimate allegiance: the King of kings and Lord of lords. As Americans, we have a complicated relationship with allegiance, with to whom or what we pledge our loyalty. We revolted against England to establish our own governance, and we pride ourselves on our independence. One of the reasons Anglicans had to expedite a new prayer book was because we had to remove allegiance paid to the English monarch, who also stood as defender of the faith. Today we are, however, expected to pledge allegiance to the flag and to the Republic for which it stands. Loyalty to the nation is a serious matter, and we're still not sure how to conduct civil discourse when that loyalty is questioned or challenged.
I kept hearing Bob Dylan's song, "Gotta Serve Somebody" in my head this week. In it, he's basically saying it doesn't matter who you are or what you do, but you're gonna have to serve somebody. "It may be the devil or it may be the Lord/But you're gonna have to serve somebody" so the song goes.
Whom do we serve? Can we say with full confidence, like Joshua, "as for me and my household, we … serve the LORD" (Joshua 24:15)? If someone looks at our bank account, does it look like we're a cheerful giver, not just to the church even but to worthwhile causes, too? If someone looks at our schedule, does it reflect times of prayer? If we believe in God, are we loyal to God? Do we pay allegiance to God?
And maybe a better question is "How do we serve God?"
Because, yes, we serve the Lord, we give, and we pray, but how do we do it? Because we're told? Because we have to? Because we're supposed to, so we do what we gotta do and be done with it and live our lives the way we want the rest of the time? You don't have to tell me, but I bet you can come up with at least something you do that you just have to power through. You don't want to do it, but it's good for you, like my going to the gym. Or eating all those vegetables that are so good for you, like celery. There may be other things, too, that you do that are hard but you don't want to admit but that just are, like going to funerals or nursing homes or even going to parties and special events. Maybe they just aren't your thing. But you do it. You're loyal. Sometimes that brings with it a sense of servitude. We don't like it, but we do it. We push through it. We get it done, and we can probably describe in methodical detail every aspect of our tasks because we're very conscientious about what it is we have to do, unless we've let ourselves develop a habit and stopped paying attention to why we do what we do. If we lose our conscientiousness about it, then we've become little more than an automaton going through the motions.
"Be joyful in the LORD, all you lands;/serve the LORD with gladness and come before his presence with a song" (Ps. 100:1) (I always think there should be an exclamation mark at the end of that sentence.) I don't think an automaton makes a joyful servant. Do we serve God with gladness, with gladness and singleness of heart? Maybe not all the time but even sometimes?
Maybe you do this more than you know. When you are doing what you're good at, when you're settled into your groove, and when you're humming or smiling or focusing so intently that all else fades away, that's it: you're serving with gladness and singleness of heart because you are being fully you. So often we try to complicate a sense of being a wholehearted person or someone fully restored to God, but it's really quite simple. You be you to your fullest, and in that moment when you think you can't hold anything else, be joyful that God has created you for this moment. Be glad that you are restored to your Creator through our Lord Jesus Christ, for however far away we've strayed, every moment we have the chance to return.
It doesn't sound like we have infinite opportunity when we've heard so much about being cast out or accursed, with all the weeping and gnashing of teeth. But things aren't always what they seem. Jesus wasn't the stereotypical Messiah; I don't expect him to be the typical King. How many kings liken themselves to shepherds?
God in Ezekiel likened God to the ultimate Good Shepherd, and then appointed David as prince and shepherd. Jesus likens himself to the Good Shepherd, one of my favorite Godly Play lessons. We want to be sheep of the Good Shepherd, loved, protected, known, and sought after. As archaic as the image seems to us, we get that a good shepherd is what the sheep want.
But what about strength and might, power and dominion?
Even the nations become like sheep and goats when the Son of Man returns, our gospel today imagines. Nations who may have persecuted the early followers of Christ, nations who may persecute the poor and weak today–all are judged by the rule of Christ the King. That rule, that measure isn't about power; it's about how well you loved. How well did you love God? How well did you love others? How well did you love yourself so you could reflect that love of God in the mobius strip of holy communion, no beginning, no end?
Ultimately, what matters most is how we are living into our servanthood. As faithful, loyal followers of Jesus Christ, how's our servant's heart? Are we humble, merciful, pure, strong, peacemakers (with God's help, of course!)? Not because we have to but because it's the right thing to do: do we feed the hungry, water the thirsty, welcome the stranger, clothe the naked, comfort the sick, and visit the imprisoned? Not just as individuals but as a nation? If not, why not? Whom are we serving?
In any of the advocacy work I've been a part of or causes I've supported, the bottom line in all of them is that true change starts at the ground level. It starts at a point and reaches a critical mass until it becomes a groundswell that changes things, forcing the top to move as the masses mandate. It doesn't take an expert sociologist to tell us that we're not a united people right now, not even united as Christians, I'm sorry to say. Some of us would probably rather see the face of God in another religious tradition than work with other members in the Body of Christ. What does that say about our heart? Our faith and love?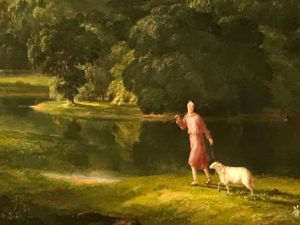 "We are his people and the sheep of his pasture." We have the ability to serve with gladness and singleness of heart, to be joyful and sing. We also have the ability to go out and be a guiding light for our community and our nation. God's will for us all is to be restored, to be returned to our fullness of glory in the image of God. What each of us does to that end is going to vary, but it's something we get to do. We can ignore it, do it begrudgingly, or do it with love and joy. I promise it's so much more rewarding to do it with love and joy. Not easier! Just ask the Ephesians. Ask those persecuted for righteousness' sake. They wouldn't describe their allegiance to God as bondage, a servitude suppressing their freedom. Rather, in their oppression by the powers of this world, their allegiance to God through Jesus Christ bound their hearts in solidarity to the Sovereign of all ages. The mutual love and affection to achieve glory not only fulfilled their best selves but also fulfills God's will.
And Paul gives us a beautiful prayer for our servant-heart:
"I pray that the God of our Lord Jesus Christ, the Father of glory, may give you a spirit of wisdom and revelation as you come to know him, so that, with the eyes of your heart enlightened, you may know what is the hope to which he has called you, what are the riches of his glorious inheritance among the saints, and what is the immeasurable greatness of his power for us who believe, according to the working of his great power."
Amen.