Joshua 24:1-3a, 14-25 | Psalm 78:1-7 | 1 Thessalonians 4:13-18 | Matthew 25:1-13
Most families about this time are finalizing Thanksgiving plans, determining who's going to be where, bringing some part of the great feast. Perhaps your family, like ours, lingers around the table a little while, too full really to move, and starts storytelling. Casey's dad is really good at this and is prone to exaggeration or throwing a joke in when you least expect it, so you fall for it completely. Then his mom starts in, sometimes barely getting the words out from laughing so hard, and we're all laughing, too, though we've heard the stories hundreds of times (and I can't tell you many of them because we're in church and you probably know your own family legends). We can almost guess which stories are going to be told, depending on the theme of the conversation. I've noticed my older kids recognize this pattern and can jump in to jog memories if details or stories are left out of the conversation. In a sense, this is the Milford family's oral tradition. These are the stories we tell when we gather together that demonstrate our resilience, our bond, and our sense of humor (to be sure!).
We gather each week for our Great Thanksgiving, our Eucharist, and we share our stories. Stories like Joshua leading the Israelites to the Promised Land, making sure through a bit of reverse psychology that they're all in, committed to following one God, like him and his house. (So, yes, they're really going to have to get rid of all the other idols.) Stories like in the letter to the Thessalonians that offer encouragement, hope, and assurance. They just knew the Son of Man was coming at any moment, but people were dying before he got there. What about their reward? In light of the foolish and wise bridesmaids, how can they–how can we–be sure we're all ready, fully prepared? It doesn't seem sustainable to be in red alert mode all the time. Something doesn't seem right.
We know there's a lot "not right" right now. A quick glance over the headlines just this past week tells a story of a people clamoring for something but getting tripped up on themselves. Where in all our stories does it say point a finger at anyone but ourselves? We want to do that. We could read and live our tradition blaming everyone else for our plight–from the Egyptians to the pharisees, to the Romans, to the Islamic State, to nonbelievers, to addiction, to mental illness. . . our list is legion. Last week when we were given the Beatitudes, Padre Guillermo and I both read them as instruction for how we live our lives in relationship, in community. They are how we live our lives ultimately because we are in relationship with God, and nowhere in the instructions does Jesus tell us that we are to rationalize or make excuses for not loving God or our neighbor, blaming our inadequacies on anyone and anything but ourselves. This acceptance or even realization that we are accountable for ourselves doesn't feel good, but it allows us to seek out help; it helps us admit our weaknesses and vulnerabilities for which we need support. We could use our own letter from Paul.
When we're living into the Christian life and trucking along with a new convert's fervor, we might shine the light of faith brightly for all to see. We make our decisions based on what is right and good because it seems so clear. We know whose we are. We know where we're going. We're ready to meet the Lord now or in the kingdom to come. Our lamps are lit, and we're prepared. We're wise. And good. (And incredibly prone to being self-congratulatory.)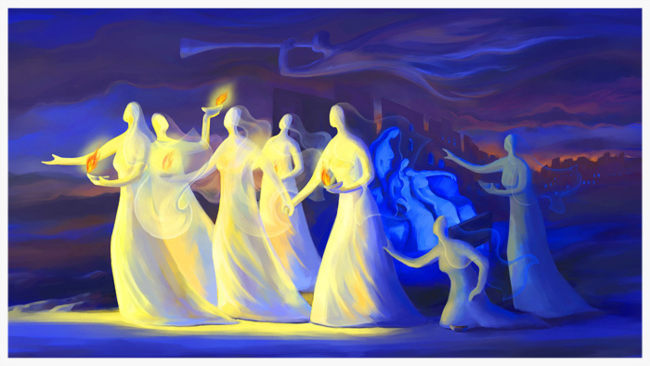 Maybe we started this life of faith with such vigor but started to lose our way. Unconditional love and acceptance drew us in and lit a fire we didn't know we were capable of. Our light shines as brightly as for those who are wise, or at least it does at times . . . or did at one point. We just missed the instructions on how to keep the oil filled, our lamps ready and prepared. So how do we stay on fire for Jesus? How do we stay in love when things get hard, when the blessedness assured by Jesus seems hypothetical and archaic?
We share our stories.
Remember when Moses saw the Glory of God and was transfigured so much he had to wear a veil to talk to the ordinary folks? Remember how Moses died at the LORD's command without much ado, and then Joshua was chosen to lead the people on into the Promised Land? Remember how Jesus summarized the law as loving God with all your heart, soul, and mind and loving your neighbor as yourself? Remember how Jesus lived, died, and rose again to show us the triumph of life and love on Easter morning? Remember the first time you experienced the unconditional love of God? Remember when you experienced the radical hospitality of this place? Remember how All Saints' was planted and all the crazy things you've been through? Remember the first service on the Land? Remember the first bilingual service?
All our experiences now are the stuff of tomorrow's stories, and it's okay to look at the stories, the memories and learn from our mistakes. The gospel doesn't say the foolish bridesmaids couldn't get oil to fill their lamps; they just hadn't done it in time. The wise ones knew the stories, learned from them, and remained steadfast, ready for whatever came next.
The important thing for us today is that we realize we're in this for the long haul: "this" being our Christian life. This Christian life isn't a sprint to the Second Coming but rather a marathon of following Jesus's way through life, death, and resurrection–physically and spiritually. We need the light of Christ to illumine our way forward, and we need the oil, the fuel for that light. What do we do to nurture our faith in Christ? When and what do we pray? Do we hear Bible stories or read them on days other than Sunday? Do we consider our church family part of our support network? How much of what we do in the other 166 hours of the week reflects that we follow Jesus and that He is the light of our life? If we don't know how or why or when, know that's what I'm here for, to help you in your walk in faith, to find fuel for your faith. Normally people seek out the church in times of crisis, but if we keep maintaining a life of faith, we have a reservoir at the ready.
And what about All Saints'? We've considered the stories of the past, but what of its trajectory? What do we need to make ready so that when Jesus wanders in in the guise of the unemployed, the hungry, or any one of us, we're prepared to show love of God and neighbor in practice? Keep in mind, we're not pointing fingers or making excuses. This isn't just a prompt for a "we need a building" discussion. This is really a prompt for us to prayerfully consider who we are as a church, as a people of God who proclaim the Risen Lord and who are gifted with Holy Spirit. Because if you put us in a room with a hundred other people from a hundred other religious traditions, we couldn't distinguish the foolish or wise, the lazy or the prepared. Looking out at all of you, I don't know your heart and mind (though some of you are likely still thinking about Thanksgiving). How does who we are affect our trajectory as a church in Bentonville, in the world?
These are the kinds of questions the vestry and I ask ourselves as we put together a yearly budget. Good caretakers, good stewards consider not just the material but also the intention and the hope. As we gather weekly for our Great Thanksgiving and tell our stories, what stirs in your heart? What fuels the light of Christ within you? What are you grateful for? What gives you a sense of wisdom? Those are things we can't really put a pricetag on and say, "Well, match your yearly pledge to that." The work we do here, the preparations we make from a place of faith are not of this world but are still very much within it. I know in the newsletter there's been an emphasis on pledges that haven't been met and how we have a deficit. But I believe we are a community that knows how to prepare. We are a community of abundance–of love, of talents, gifts, and treasure. We're also a community of vision; we see All Saints' filling an important role in the faith community in Northwest Arkansas. We'll watch and wait together, but our anticipation isn't idle. There's work to be done, memories to be made, and stories to tell. We're in it for the long haul.