Exodus 1:8-2:10 | Psalm 124 | Romans 12:1-8 | Matthew 16:13-20
At the Christianity panel sponsored by the Tri-faith Club on Tuesday night, there was a question regarding all the different denominations within Christianity. The question really started out with something like: "What's up with all the different denominations in Christianity?" We were told there are more than 33,000 denominations, and that number continues to grow. So when our collect mentions a church "gathered together in unity," I pause. "Unity" doesn't exactly come to mind when thinking of the whole Church, and therein lies a warning flag for a shortcoming in my living into God's will. So focused am I on "our" well-being as an appendage to the Body of Christ, that I miss the opportunity to pray with all my heart, soul, and mind this prayer of hope that sees–that visualizes– the potential we have as the Body of Christ to give glory to God.
We are taught from a very early age to look out for ourselves, for our kind. It's a tribal mentality, and I haven't tried it, but I imagine that if you look at every conflict throughout history, you can see the battles playing out between an "us" and a "them." We must protect ourselves for our survival. Certainly we have that within our Christian ancestry. Take this genesis story of Moses. The new king didn't know Joseph; he didn't know that it had been Joseph's leadership that had helped the Egyptians and the Hebrews live through the famine. From his place of power, he saw the others, the Hebrews, growing in number, and rather than do the hard work of learning to live together without fear, without oppression, the king leaned harder into the oppression, motivated by his fear of this strong multitude of people. Where was the king's hope? We can't see it for the fear of losing power. What is his vision? For a continued reign unchallenged. Where is his sense of unity? Solely within his kind.
(I'm talking about the ancient Egyptians, remember. People who lived thousands of years ago.)
What about the "others"? The apparently growing number of Hebrews, who, even in their subservient place in society, were also growing in power. Whereas the Egyptians feared the Hebrews, the Hebrews, we are told, feared God. At least, the midwives feared God more so than the king. So when they are told to kill the boys born to Hebrew mothers, they commit civil disobedience. They speak the truth when they say that the Hebrew women are vigorous; they are strong from all the labor they have to do. Are they born before the midwife comes to them? I birthed with a midwife who said the baby always started to come when she stepped away to go to the bathroom. Maybe these midwives, too — Shiphrah and Puah — didn't get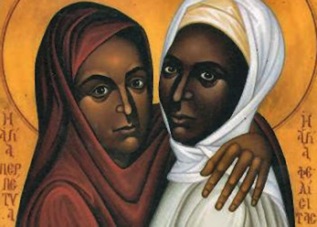 there in time. It can happen like that. We have the names of these midwives. Shiphrah and Puah. They had a sense of where they stood in relationship to God. They had a sense of hope in the blessing of their people, that they dare not defy God's covenant or work against it. Their hope is in God. Their vision is in a people chosen by God. They know the stories of Joseph, Jacob, Isaac, and Abraham, and even more than that, they know the roles of the women in the stories, too. They know the power of the women to continue in God's work. Their people cannot survive without them. They know they have to work together as a people united to be and stay strong. Out of all of this, Moses is born and rescued–by the cooperation of Egyptian and Hebrew women. Leave it to something innocent, precious, and good like a baby to bring people together, even if they aren't fully aware of the divine work at play.
We'll continue with more of Moses next week, but today, where is our hope? What is our vision? Where is our unity?
We, who know the stories of our people, who, like Peter recognize Jesus as the Son of God and are assured the kingdom of heaven, can we kick back and ride out this life on the waves of grace and the assurance of our salvation?
Peter might have been granted this moment of glory with the favor of Jesus shining upon him, but remember that Peter is also the one who denies Jesus three times. Peter is a lot like us in his imperfections, right? He showed us that great faith can get us out of the boat, but our fears can also sink us. We needn't be so sure of ourselves. We have to know who we are, really.
We have to know where our hope is, and our hope is in the name of the Lord. How many times have we said that? What does that look like in practice? My hope is in God, so even when I'm told to do something that I know in my heart of hearts is wrong, I do not do it. More than that, I say out loud what is true, and if I do what is wrong, I confess and repent and begin again. With the strength of Shiphrah and Puah, I support life and protect the vulnerable, and even if I'm scared, it is hope that I have in God to be with me, behind me, and before me, that I walk in the way of Jesus Christ. Hope in practice looks like living with the marginalized, if not as actual neighbors then as advocates for them. Sharing meals together. Sharing conversations together. Voting on measures that support the poor and silenced. Hope in practice looks a lot like taking the Light of Christ and sharing it with others because it gets stifled and changes when we hoard it for ourselves. We begin to think that the hope and all God's promises are just for us when we keep hope to ourselves, when we start to enclose ourselves in our echo chambers which are too confined for the Holy Spirit.
Our hope is in the name of the Lord, and our vision is set on the Kingdom of Heaven. Isn't it? "Thy kingdom come. Thy will be done." We mean that, right? If we don't pray this every day, we get distracted. We forget what's important. Our vision gets short-sighted in the busy-ness of our daily lives, and our hope becomes fixed on making it through the next few hours for me and mine. And we do have to take care of ourselves, making sure that our basics are met so that we can help others. But taking care of ourselves doesn't mean that we only make sure our basics are met; our neighbors need the basics, too. Do you know when and where the food pantries are in our community? (Here's a link.) As long as there are people starving, we're going to struggle to share the vision of the kingdom because people are living in hell. When our basic needs are met, we can imagine the kingdom because we've tasted abundance. We've known love and safety and stability. There are people worldwide who don't have those experiences. And it doesn't mean that God is any less with them than us. Don't for a second think that God doesn't love someone who is suffering. The culpability is on us, the Body of Christ, the hands and feet of God in this world.
Have we become lame? Do we need to be revived?
Yes, we need to be revived, and we must be united as the Body of Christ. Yes, there will be divisions because we do not agree on everything, but fundamentally, we share one Lord, one Word, one Love. As a Church gathered together in unity by the Holy Spirit, we can't help but show God's power of Love in the world, and this is work we must do.
There is hope.
Being new in this community, I'm building relationships. Yes, it's easier to build relationships with people like "us," but I'm also looking for opportunities to reach out and unite with others for the sake of Love and to the glory of God. Because we have a Light that shines and illuminates for us a vision of the kingdom. The doors are wide open and sometimes we get a glimpse, like when Camp Mitchell announces it's open for refugees from the hurricane or when another Magdalene House opens up or brings another woman in. And ultimately, we are a people united, not just as Christians but as children of God, as people of humanity. What unites us? Love. The love that involuntarily bubbles forth when we recognize our common humanity. The love that makes us rush into harm's way to help another. The love that makes us pick up the crying baby from the river.
At the interfaith prayer service Monday night, Dr. John L. Colbert from the Northwest Arkansas Dr. Martin Luther King Jr. Council had a speech prepared and threw it to the wind as the Holy Spirit blew in. His heart showed in his eyes and smile as he greeted us with the energy of a black pastor about to lead us in a gospel sing. He admitted that he was overcome by love as the voices from people gave thanks and as we came together as a people united. And he did the thing that we are so dis-inclined to do. He chided us for sitting so far apart, and he told us that we love being told that we are loved. Then he told us to stand up and tell a neighbor that we love them, to look them in the eyes and say, "I love you." Laughing genuinely, and I'm sure some were laughing nervously, we all stood up and spent the next five minutes hugging one another, telling each other, "I love you." And we meant it. You know when you look into the eyes of another person whether they are telling the truth. You know when it's hard. You know when they're trying. But if you look into someone's eyes and say, "I love you" with the love of Christ, that love of Christ shines forth from the depth of your being and rejoices that you've given glory to God, allowing a connection to be made, for a union to occur. It might be tenuous at first, but with a lot of practice, all our hopes and vision for the kingdom can be realized if we focus on what unites us.