Genesis 28:10-19a | Ps. 139:1-11, 22-23 | Romans 8:12-25 | Matthew 13:24-30, 36-43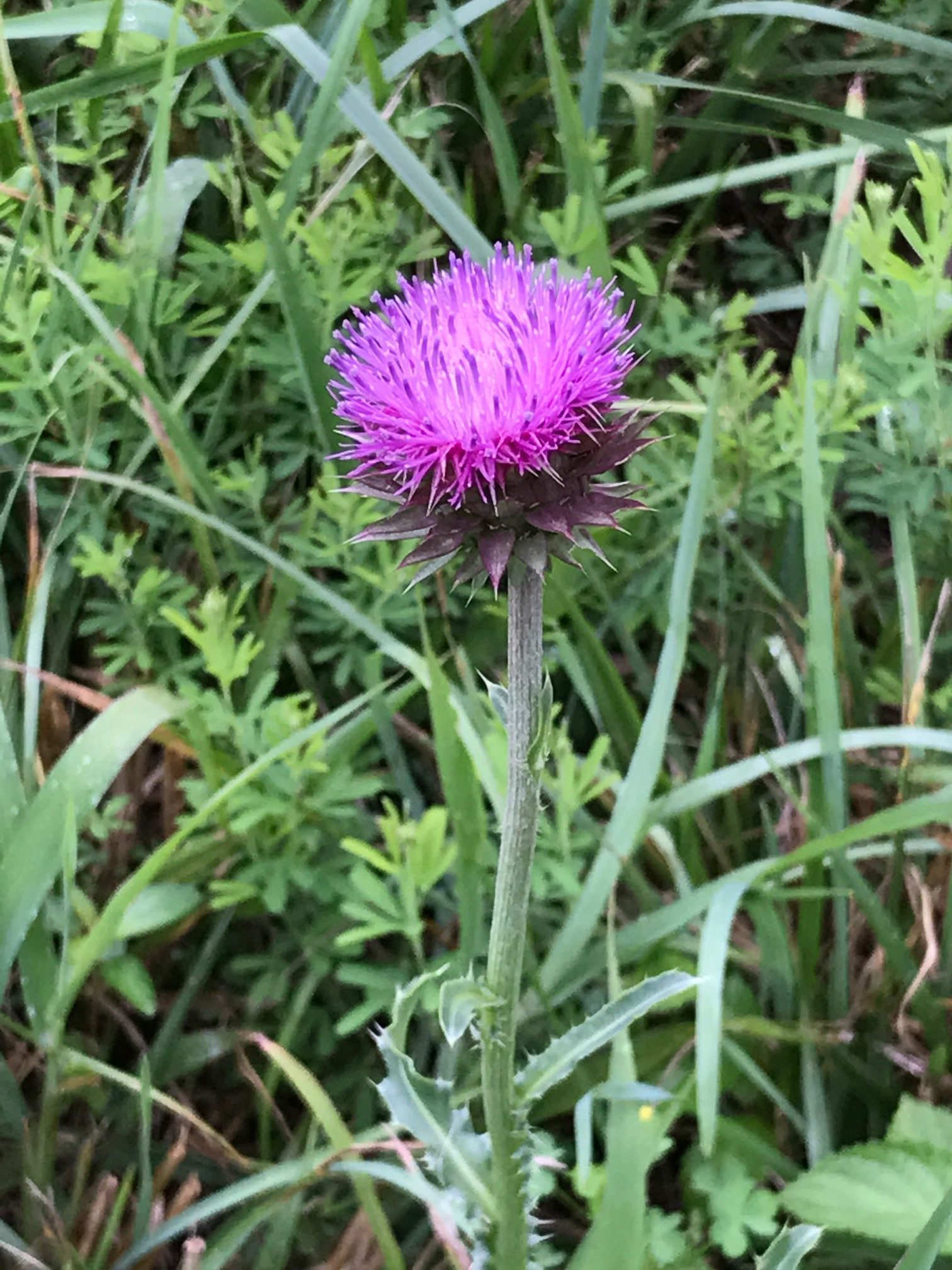 A few years ago, I recall talking with my dad on the phone as he was out checking the cows, and he was complaining in colorful language how there was another … thistle in the pasture, another weed that–given the smallest window of opportunity–would multiply quickly and continue to contaminate the hay field. It reminded me of when Casey and I laboriously tended to our lawn in Conway, the lawn of the first home we purchased. We wanted to be organic, so I pulled weeds by hand on the lawn that Casey mowed in a certain pattern. Someone told me that one weed would spring forth seven more, at least, if not caught before it matured. I couldn't imagine pulling up a thistle by hand, definitely not without gloves. Any time I would see thistles along the roadside or in a nearby field, I'd think of my dad and his battle with the thistle, his weed archnemesis, and wonder if that landowner felt the same way, exasperated at trying to get rid of them.
So when I picture the scenario of the parable Jesus gives us today, I imagine the servants looking suspiciously at their master as the weeds–and of course I picture thistles–grow above the wheat. "Trying to cut corners, were you?" they might be thinking. He bought the cheap seed, huh? Got a good deal? Because they had only planted what had been given to them. They had done their job right.
But the master isn't a fool. He knows what's going on. While everyone was sleeping, the enemy flung the invasive weed seeds throughout the crop. There was at least a 50% chance for the master to get aggressive in getting rid of the weeds. A chance that he would destroy the weeds and crop alike. To let the weeds and crop grow together would require more work and use valuable resources. There's a chance the whole field would end plowed up, given up on.
The God of Jacob, who promised to be with him and keep him; the God of David, who is inescapable and knows the way that is everlasting; God, who revealed Himself in the person of Jesus as a sower of good seeds, is not a God of chance.

God knows.
The master knew what was up, what the stakes were, what the stakes are.
We struggle with omniscience. Because if God knows all, what does that mean about our free will? What kind of choice do we have? But if we listen carefully to our treasured parable today, we hear that the Son of Man is the sower of good seed. God, creator of all Creation, saw from the beginning that Creation is good. And that God knows everything means that God knows all variations on a theme of our choosing–from a reality where Adam and Eve stay obedient to a reality where only giving of God's self brings redemption to the world. The great I AM knows all that is, has been, and will be, even though our human brains cannot even compute the infinite possibilities of the infinite variables at play in the actions and reactions taking place in all the world throughout the cosmos. And Creation is Good.
But what of evil? THE enemy?
Are we Episcopalians even supposed to be talking about evil and the devil? Yes. Because when were the seeds of the evil one sown? When everyone was asleep. When no one was aware. When no one was paying attention. Not until the deed had been done did anyone notice, and did you notice how quick everyone was to put the blame on the master? You planted the bad seed, didn't you? It's your fault. We want to do that, too, don't we? When things go wrong, when life gets hard, we want to say God did it. Or if we're trying to maintain a sense of faith, we'll say, "God has a plan." But it is so out of our hands that we're just the innocent servants in the field, doing what we can with what we have. We're just objects in the cog of the machine. Where here, God's there, and if we're doing everything right and staying faithful and obedient, evil is nowhere near us.
(If this is what you practice in your life, we need to sit and visit and hash out our theology a bit more.)
Every bit that God is faithful and devoted, inescapable and everlasting: God is Love. This Love is not only all-knowing, but it is also ever-present. So we can lay our head on a rock in the desert and receive a dream that blurs the distinction between heaven and earth and know that the LORD is in this place. We can bare our heart and soul, fears and doubts, joy and praise, and the unconditional Love never fades. We can hope with all hope and stand in the midst of the field when danger is all around and know that we are ultimately okay.
In the goodness of Creation, there was from early on the ability to be against God, to disobey, to interrupt the relationship of unconditional love. That we can do anything means we have choice, and love fully lived into is of free will, otherwise it is not unconditional, true, wholehearted love. And when Jesus tells us to love our enemies, it's yet another example of Jesus telling us to do what God has already done.
God knows this. But the Devil doesn't understand Love. The Devil doesn't understand the devotion of a loving Creator who will go to great lengths–even through death and resurrection–for the sake of the good seeds that have been sown.
Does that mean that the weeds are automatically to be burned in the fiery furnace? We are so hasty to point out the faults of others, to label "us" and "them," and to judge in general. Given texts that have language of reaping and burning, weeping and gnashing of teeth, we have an arsenal to broadcast fear. I want to be a righteous one, not an evildoer, and if being a "good seed" is too hard, well, I may as well not care at all. Why believe in something that dismisses me out of hand? The Enemy is clever, right? Is apathy worse than fear? It's not any better. But if we think we are castaways, why bother?
Do you hear what our God who knows is saying today? I won't hurt the seeds, even those sown by the enemy. I'll let them grow. My workers will tend to the field, as I command them. The choices that are made will create the end result. Never am I not here. Never have I dismissed them out of hand. Even my enemy's children have the option to choose love.
While I was in seminary, I had the privilege of being close to Nashville where Becca Stevens began the Magdalene House, a place for women to escape drug addiction and sex trafficking, lives on the streets. The founding principle is that love heals, and I have a couple of shirts and stickers of my own that promote Magdalene House and the social enterprise they started to give the women opportunity to learn and work. As many of you probably know (since we have models based on the Magdalene House in our state), the enterprise is called Thistle Farms. In addition to bath and body products, Thistle Farms sells paper products like greeting cards. In the handmade paper are bits of thistle, particularly the flower. The very weed that was the bane of my dad's pasture is the very flower sought out by Becca and the rest of the Thistle Farmers. Becca says,
"To me, being a thistle farmer means that the world is our farm and our job is to see the beauty in the areas that have been abandoned or deemed unworthy of cultivating. Our fields include alleys, lots behind malls, railway clearings, and the poorest sections of town. When we harvest a thistle, we see the beauty in all of creation and that nothing should be left to be condemned."
When she speaks to groups in Tennessee, she'll often say that if we notice a place where thistle are growing, to let them know. Whether she's talking about the thistles or the women who need healing, it's hard to say, but God knows.
And we know, thanks to Jesus Christ, that we bear the burden of responsibility not to judge what is good seeds or bad weeds but to keep our focus on what is of Love. We stand in the midst of the field and know that there is so much more to this life that we don't know than what we do. We believe even when we can't fully understand that the boundaries between the realm of the angels and the depths of hell are not that far apart and that the promise of an end of an age happens more often than we realize and continues to happen only as God understands until the reality we perceive matches God's dream for the kingdom to come. A dream where love is the pervasive reality, a place where love not only heals but also where love always wins and grows among us all.