Genesis 22:1-14 | Psalm 13 | Romans 6:12-23 | Matthew 10:40-42
A month or so ago, Krista Mays contacted me, politely asking if I wanted to use Track 1 or Track 2 for our lectionary. Wisely on her part, she mentioned that Track 1 does include the bit about Abraham's near sacrifice of Isaac. I grimaced. No one likes that story. What kind of first sermon would it be that mentions human sacrifice at the command of God? (Even though it doesn't happen.) These are my first split-second thoughts. Then I remembered what I asked Rachel Held Evans at the Insight Lecture at Trinity Cathedral in Little Rock just days before Krista called, something like: "What stories do you find you have to lean into when you really want to ignore them altogether?" So I paused, sort of girded up my loins, and said for this new beginning, we would start with Track 1. I wouldn't shy away from the difficult. And so we begin our relationship with the lectionary we have today.
Our collect this week asks God to join us "in unity of spirit" by the teaching of the prophets and apostles but chiefly of Jesus Christ. We will spend every Sunday, if not every day we spend in Scripture, gleaning the teachings of our ancestors in the faith. But today, how fortunate we are to have some foundational principles that will guide us in our life together individually and as part of the body of Christ. Especially as we look forward to and imagine the future of All Saints' . . . we have to know who we are and whose we are. Fortunately, we don't have to guess what this means. We have a tradition already firmly established in the teachings of Jesus, the prophets, and the apostles.
In a church whose tagline is "The Episcopal Church welcomes you!", we get the Gospel message today. Our Good News is that whoever you are, wherever you are, you are welcome in this place, you are welcome at God's table. Given the number of times I think we will have to extend hospitality to each other and the commitments we have made to reach out to others, I know All Saints' understands the imperative of this teaching to extend welcome to all, to receive one another in the name of Christ, whether we are devout children of God or wandering seekers yearning for something we just can't wrap our mind around. The graciousness of Spirit that Jesus showed us in his life with all the people he came across, especially the marginalized, that is the graciousness of Spirit we are to embody in our daily lives in whatever way we can.
That's where the apostles and disciples come in: they show us that the most ordinary folks are acceptable in the eyes of God and that we're meant to be a motley crew. Last week we got a list of the twelve apostles, but we know there was an even larger band of misfits with them, male and female, young and old, rich and poor, though mostly poor. The apostles teach us that it's okay to doubt and ask questions. It's normal to get uncomfortable, especially when Jesus gets excited and breaks yet another social norm, let alone when he starts flipping tables. And they show us that it's okay to be completely surprised when we do something remarkable in the power of the Spirit. The apostles and disciples show us that if we are full of ourselves, how does that leave room for Jesus to shine through? Only when we've given ourselves over to God, become slaves to righteousness, only then can God fully work in our midst, only then is the kingdom of heaven at hand. All of this sums up to living a life in faith and righteousness to the best of our human ability (because we know none of us is perfect).
So we have what we often call the radical hospitality of Jesus and the faith and righteousness of the apostles and disciples. That leaves us with the prophets, and I promised I wouldn't neglect Abraham.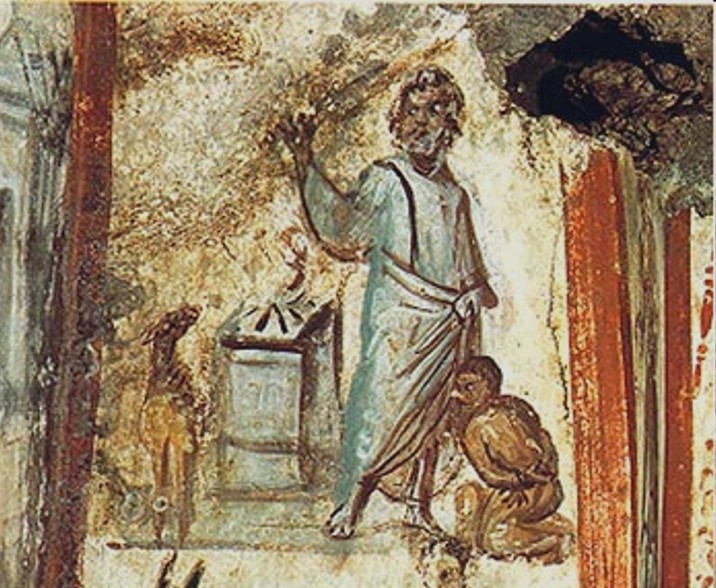 I don't know about you, but I don't normally think of Abraham as a prophet. Father Abraham, yes. Prophet? Of course he is. He gets a remarkable call from God from the beginning to leave his people, and he goes. He's told he will be the father of nations, though his wife is barren. And when he does finally have sons, one he is told to send away, which he does, and the other he is told to make a sacrifice, which he sets out to do.
Now, if you want to read a remarkable book on Abraham, I commend to you David Rosenberg's book Abraham: The First Historical Biography. After I told Krista I would do Track 1, in my conversations with the Rabbi in Hot Springs, I asked him nonchalantly, "So, anything in particular I should be mindful of about Abraham if I were, hypothetically, to be preaching on the sacrifice of Isaac?" "Let me think about it," he said, and the next time we met, he gave me a 300-page book on Abraham, being the good rabbi and Hebrew studies scholar that he is.
The obedience of Abraham, as with all the prophets who eventually accept their calls, is the main teaching that stands out to me today. (Maybe it's because I'm so close to this most recent transition in my ministry.) But Abrahams's obedience–particularly related to the near-sacrifice of Isaac–bears particular significance in lessons for our lives in faith. The translation Rosenberg includes in his book has Abraham responding to God not with "Here I am" but with "I am listening." Not only is Abraham present, but he is actively receiving the Word of God. And Rosenberg describes Abraham's actions, as the text does, as very physical, very tangible, yet in a dream-like state. There is something at work here beyond the natural realm, but very much in the natural order. For Judaism, God cannot cross to interfere in the natural world because then He would not be trusted ever again. But the boundaries have to be tested. Boundaries like between life, the affirmation of continued existence, and death or the fear of extinction. Isaac is the one upon whom the continued identity of a nation depends. This situation, Rosenberg says, is a "biblical nightmare" because God is testing Abraham with threat of cultural extinction. We realize how incredibly vulnerable this young nation is, a small family in the midst of strangers.
We might think God interfered directly, but Abraham awakes from his trance-like state from the voice of heaven, not entirely unlike the voice of our conscience. Probably with tears streaming down his face as he holds the blade above his son, both of them showing their devout obedience to God above all else, Abraham hears the voice and says, "I am listening." And he's told to stop, for Abraham is shown to have "an integrity dedicated to God," not just fear of God. I love the translation that shows a father of nations to be filled with humility and integrity dedicated to God. That is the kind of obedience we are to show. Not false humility or empty martyrdom, but a complete devotion in knowledge of our strengths and of our faults that we will do nothing but our best to live into the commandment of our LORD. Every day we are listening, we hear the command to love one another as Christ loved us.
Hospitality. Faith and righteousness. Obedience.
The teachings are spelled out for us, but it is up to us to figure out what they look like in practice, what the process of becoming a holy temple will be like. What makes us worthy of the name Christian in the eyes of God?
So I have my sermon prepared by yesterday afternoon when I checked my email and saw the letter from the Bishop about the Little Rock mass shooting early Saturday morning. I had read about it not long after I woke up and thought, as I'm sure many of you did, "How horrible. How senseless." Like our state leaders, we probably sent up our prayers to the victims and their families. And I went about my day and wasn't even going to mention it in my sermon . . . except I read the bishop's letter that challenged us to think about how we can be life-giving when so much of society condones violence as a solution. How hospitable is it for me to look away shaking my head just because the Power Ultra Lounge isn't my scene and I'd never heard of Finese 2Tymes before Saturday? The victims at the concert were people's children; the youngest wounded was 16 years old. If it was gang violence, these are individuals looking for belonging in the only places they think they can find it. How faithful and righteous is it for me to ignore or look away from that which is not pleasant and painful? How obedient is it for me to pretend that this doesn't affect me or us? Because we are all connected. If I'm going to say my prayers matter, then another person's pain also matters. We can't turn away or pretend the situation didn't take place any more than we can pretend that there aren't some deep-seated issues in our society that need to be addressed for what they are . . . issues that make a place especially susceptible to fatal violence. I don't expect us to come up with a response for the bishop right away, but he poses questions worth asking ourselves. Keeping our foundation firm in our teaching, we can engage the questions and embark on the arduous journey together.
It will take time, but I aim to meet with everyone here. Don't be alarmed when I call you . . . consider this your advanced notice, and please let others know who aren't here. I'll not show up unexpected, though you are welcome to surprise me. (I'm a big fan of scruffy hospitality, so be at ease.) I want to know how live into your baptismal vows, what keeps you curious about a faithful life, how you see Christ at work in our midst. Together we will discern how we live into these teachings that give us a sure foundation in all we do because no one of us is at the head, save Jesus Christ. When we serve meals, it is the light of Christ we share first. When we visit jails, it is the presence of Christ we bring first. When we pray, it is the voice of God we listen for, surrounded in the presence of Christ, filled with the Holy Spirit.
In everything we do, how and who are we welcoming?

Are we doing it in good faith and righteously?

Are we being obedient to God's will, or has our own will obscured our way?
The rewards of our practice, of our being Christian grounded in these teachings, is not spelled out in our Gospel today. But allowing the creativity of Spirit to craft our rewards accordingly encourages us to be aware, to keep looking for the glory that awaits us. It won't necessarily be gold stars or even stars in our crowns, but it will be something like the glory of God manifest in the world around us. Something like that taste of joy when we are aligned with God's will. Something like the smile of a loving father or mother who tells their child, "Well done, good and faithful one."
I know we have hard work before us, for Jesus assures us that living as disciples isn't easy. But our foundation is sure, and our prayers are set for the glory of God. I am blessed to share this journey with you, in unity of spirit, as we fill our community with the light and love of Christ.