Exodus 17:1-7 | Psalm 95 | Romans 5:1-11 | John 4:5-42
We know this Jesus showing up at the well, exhausted and parched, completely willing to take a shortcut. This human Jesus has dusty feet, sand and sweat in his eyes, hair, and beard, and the weight of the world heavy on his heart. It had to be a relief for the disciples to offer to run into town to find some food. "No, you go ahead. I'll just wait here for you." Haven't we all said that, hoping for a bit of rest?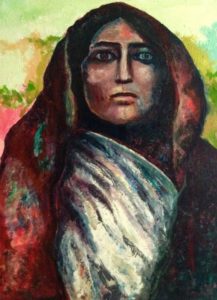 We know this woman at the well. She's outcast but proud. Eloquent and intelligent. She knows her place in the margins of society and has crafted her armor well to handle the torment . . . the persistent sexism, discrimination, and oppression.
And we know the expected social script. Then as now, the script would have them ignore one another, pass each other by without interaction or engagement and look the other way. Jesus would rest. She would get her water–transactions complete without complication.
But Jesus has a way of complicating things.
He's always writing a new script. Before we even know why, Jesus knows that this woman's heart has been broken and a fortress built around it to protect her vulnerability. Before we even know that there's a harvest ripe and ready, Jesus knows that this woman has the potential to sound the call that now is the time for the world to be turned upside down, for the world as we know it to give way, for all we've ever hoped for to be manifest. He knows the potential in each of us, and the necessity for each and every one of us to experience His transformational love so that we, too, can turn the world upside down.
In his commentary on The Gospel of John, William Barclay says,
"There are two revelations in Christianity: the revelation of God and the revelation of ourselves. We never really see ourselves until we see ourselves in the presence of Christ; and then we are appalled at the sight."
Maybe this is one reason we get this reading of the woman at the well in the midst of Lent. How long can we carry on with our defenses up? It's not that hard to do if we play along with society's script, maintaining propriety and expectations. The majority of our society isn't observing a holy Lent. The majority isn't turning away from self-sufficiency, giving intentional thought toward dependency upon God. But we've already taken that precarious step out of the rut. When we got our crosses on Ash Wednesday, we reoriented ourselves, opening our awareness to seek with our heart, mind, and soul where God is in our lives. It's a heart- and gut-wrenching revelation when we see that God isn't manifest fully in our lives because of who we are. We are "appalled" because the truth is that we inhibit God from being revealed by the choices we make, but it's our next step after our self-revelation that makes all the difference.
Our woman at the well carries herself in the heat of day to draw water. She responds to Jesus when he speaks to her; she even banters with him, gets a little sarcastic. As soon as Jesus indicates he knows the pain beneath her facade, the exchange becomes serious. Whereas the woman acted as if she had nothing more to lose, Jesus seemingly peels back her armor and holds a mirror to show her the wounds left by five husbands. Maybe they had died; maybe they had beaten her; maybe they had used her and left her. Maybe the man she was with now was nothing more to her than shelter and protection. His eyes see her as the wounded woman she is, as only the two of them fully know. By seeing her as a wounded child of God, Jesus reminds her of her humanity, her value and worth, the shreds of which she had to box up and stow away because to hold it close to the surface served as a reminder of her constant pain and put on display her vulnerability, her need for care and love and healing. Under that blazing noonday sun and in the clear gaze of Jesus, the woman discovers herself as God sees her. She stays with Jesus long enough to let her heart and mind open to the Truth before her, the Truth that is as available as the water from the well but even more abundant, more pure, and available to all–no well or bucket required for the living water Christ offers.
Barclay also says that "Christianity begins with a sense of sin. It begins with the sudden realization that life as we are living it will not do. We awake to ourselves and we awake to our need of God."
Our sense of sin, however we express it, is us living our lives turned away from God, in a sense, leaving a stone covering the well of living water. The longer we leave it covered, the longer it accumulates layers of debris and excuses and rationalizations. The longer we let ourselves go without tasting the fresh, living water, the more we normalize our thirst and allow ourselves to be falsely satisfied with stagnant substitutes. The longer we go without sharing the truths behind our hurts and fears, the longer we isolate ourselves from everyone else lest they, too, inflict more wounds. In our pain and fear, we pile more dirt over the mound that we're fairly certain is a deep dark hole we should be afraid of . . . because we've forgotten what living water is, what life it gives, and from whence it comes. We must remember the importance of sharing our stories so we don't forget what is True.
Our greatest revelation and discovery is that
Jesus is who He is for us all.
It is Jesus' immeasurably powerful love that strips away the layers of guilt and shame until He sees the naked truth of the sinners we have been because we projected our selfish judgment onto God. We feel awful for what we've done, and rather than turn with penitent hearts to God, we run away, ashamed and afraid. Who but Jesus can seen us in our brokenness and say, "I know. Come to me. See for yourself that you are forgiven." It's that transformative experience of grace, of mercy, of forgiveness, of unconditional love that blasts away a lifetime of wrongdoing so that the living water can spring forth and rejuvenate our parched souls.
Jesus had to go through Samaria, and he sat by the well because he was tired. And everything he did was according to God's will. Touching one life at a time was the way in which to reach thousands. Only when we've experienced God's grace can we bear witness to God's power. We don't evangelize by shoving our experience of Christ's salvation into another person's heart or by pounding Bible verses into another person's head. We reveal to them our personal transformation. The Samaritan woman who had gone out of her way not to encroach upon others in the town now goes running into their midst, proclaiming to all to "come and see!" the one who knew her heart, the one who very well could be the Messiah. What a vivid image of evangelism.
How are we like the woman at the well? Where were we when Jesus broke down our defenses, and we realized that we couldn't do this thing called life on our own any more? Maybe it was a definitive moment in our life, and like a born-again Christian in prison, we can testify to giving everything to God in complete surrender. But maybe our life fully lived in Christ is a slowly dawning revelation. Maybe our life of faith has given way more and more to the realization of the grandeur of God in all of Creation, and each day takes us deeper into our existing relationships, where it's more about God's will than our will.
Because it is more about God's will than our will.
As Christians, we sign up to proclaim the transformative love of Christ for all the world. We sign up to stay woke, and when we fall asleep or fall into ignorance or complacency, we get back up again however many times it takes. It's uncomfortable when our world gets turned upside down, when revelations give us new or renewed responsibilities, and when we are to be the Body of Christ in the world. It's okay to be uncomfortable or tired. Sit. Have a rest. Drink up that living water, and then go tell the story about how it changed your life.