Habakkuk 1:1-4; 2:1-4 | Psalm 119:137-144 | 2 Thessalonians 1:1-4, 11-12 | Luke 19:1-10
With faith the size of a mustard seed, with the slightest measure of hope in our heart and desire to see Jesus, we meet Him and our salvation.
I mentioned in the Faith Journey class that in the Episcopal Church we don't really focus on conversion experiences. We're not what you call "born-again" Christians. We recognize that when we are baptized in the name of the Trinity, we're baptized into the Christian church, whether we're infants or adults. When we're mature enough to publicly proclaim responsibility for our own life of faith, we're confirmed by our bishop. If we're coming from another church where we were already confirmed, we're received into The Episcopal Church. If we've turned away from the church for a good long while, maybe we seek to be reaffirmed. We're going to celebrate most of these Christian milestones next week when the bishop visits. But don't let our Episcopal terminology and propriety fool you; we are a saved people.
But I was wrong about something.
Of course we focus on conversion moments. Conversion is change and transformation. We people in the Jesus movement are people transformed by the love of God into disciples equipped by the Holy Spirit to share the Good News. This is fundamentally who we are and what we do. We are changed by Christ and seek to change the world. How could I miss the important process of becoming God's dream???
It might have something to do with the fact that becoming who God intends us to be isn't a neat and tidy process, nor is it the same for everybody. It's not linear or predictable, and sometimes it's not even rational. The truth of the matter is that as we become what God intends, we loosen our control over the outcomes, and we really don't like even the perception of vulnerability or weakness on our part. Wouldn't we rather just keep things as they are, even if they're a bit restrictive, than turn the whole thing upside down and over to the unknown?
In Christian Ed this morning, we talked about "breaking through," as in breaking through from one stage to the next. I guess it could be viewed as gradual conversion. We don't wake up one birthday morning suddenly mature. We don't take one step to the left or right and immediately change our worldview. We move, learn, grow, and make decisions that form and inform our worldview, and at some point, if we're truly learning and growing, we reach critical mass and something gives way. It can be painful. Our physical body does this naturally: growth can be excruciating, awkward, and uncomfortable. Spiritually, socially, intellectually, emotionally–in all aspects of our lives–we go through various ages and stages, too.
Maybe you never want to change, and if you have grown into the full stature of Christ in the glory of God, I hope you never change, either. But for most of the rest of us, no matter who we are, we reach a point of being tired. Not tired in a I've-had-a-long-week kind of way but in a I-just-can't-keep-playing-this-same-old-game kind of way. We're tired of being a scorned tax collector. We're tired of betraying our people. We're tired of pretending to be wealthy and happy. We're tired of acting like one size fits all. We're tired of deceiving ourselves. We don't have to be a dealer or hustler or user to be tired. We can even be the upright, pious, outstanding citizen, employee, parent, child, who is doing everything by the book and is completely exhausted by self-righteousness.
Today, we can take a cue from Zaccheus. Zaccheus was tired of upholding an air of callous authority and of depraving his neighbors of their hard-earned wages. He was tired of playing the game, but Jesus was resetting the rules. Jesus saw the outcasts and made them whole, healed the blind, and proclaimed even a tax collector justified. By the new rules, Zaccheus had a chance . . . not just a chance but a promise at a different life, a new life, one that would truly take him to new heights. The humble would be exalted. It's like climbing the tree was a trial run. Could he risk running and climbing a tree, suffering the humiliation for doing so? It was better than putting himself directly under the feet of those who hated him. Could he actually be deeply changed? He wouldn't know until he saw Jesus, but Zaccheus was ready for a change, uncertain yet willing. He was ready to be honest and to turn toward Jesus for help, whatever that looked like. He had to climb the tree. He needed to see Jesus. He needed Jesus to see him.
Early church father Cyril of Alexandria said,
"We all have to climb the sycamore to see Christ."
How right he was.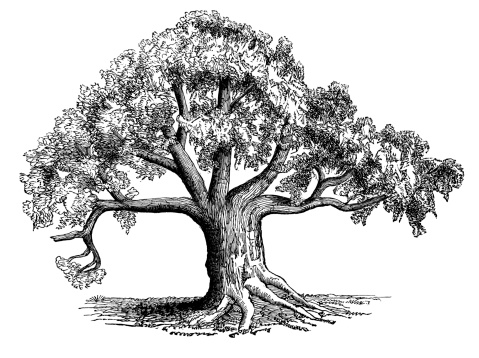 In climbing the tree we shed whatever pretense of self-righteousness we thought we had. We rise above the crowd of judgement and the mire of our sins. In a sense, we climb the tree and are perched there in our nakedness, suspended by the branches of God's creation. We see Jesus below us as man, feel Jesus with us as one crucified, and know Jesus as our resurrected Lord and Savior. How can we have a moment like this and not be transformed? By going through the excruciating motions of vulnerability, we break through the hard and fast rules we set for ourselves, allowing ourselves be changed by Christ.
But it's not just one tree-climbing experience that brings us to the table with the Lord in a one-and-done salvation experience. (And please know we don't all literally have to go out and climb actual trees!) Our life in faith is complex, as is our understanding of God. Paul said, "When I was a child, I spoke like a child, I thought like a child, I reasoned like a child; when I became an adult, I put an end to childish ways." Paul was speaking about love and our understanding of love in and through Christ. It's easy for me to imagine Zaccheus as the "wee little man" from my childhood Sunday School songs and story Bibles. A cartoon face with wide, eager eyes, barefoot, and a colorful tunic, Zaccheus sits in a two-dimensional tree with thin but secure branches and bright green leaves, Jesus smiling up at him from below, the crowd blurry in the background. As a child, the important thing to me was that Jesus saw the oh-so-happy Zaccheus and called him down so they could go have supper together. With more mature eyes, I see the scene differently. Zaccheus took a risk to see Jesus who embodied Love in all its patience, kindness, generosity, truth, strength, perseverance, belief, hope, and endurance. Maybe Zaccheus hoped to be whole in a way he had never known before. He didn't know how it would work exactly, but he was willing quite literally to go out on a limb with everyone watching.
We can be whole in Christ, too, but we still have to climb the tree to see Jesus, as Cyril said. It's not easy to climb trees, to be vulnerable. We don't want to climb because as adults, it's embarrassing. Someone's going to see a not-so-flattering angle of us or laugh at us. We might not be able to reach that first branch (because we've kept the trees perfectly trimmed), so we need help. We need someone to hear our plea, to help us call rehab, to take us to therapy, to make sure we haven't given up. Accepting the offer to give us a boost, trusting someone to spot us should we lose our balance humbles us and prepares us for following the way of our Savior. Just getting to that first branch can be enough to change our perspective, putting us face to face with Christ.
We're not able to do this thing called life on our own. We're not expected to. We are expected to grow in faith. We are expected to trust God who has been faithful to us from the beginning. Any time we get caught up in a way of life that isn't the way of Christ, we return to our sycamore and struggle to rise above our petty selves, to do the work of converting and transforming, breaking through to deeper understandings of our place in God's dream, our work for God's glory. We can thank God for strong trees and good friends, but most importantly, we thank God for meeting us where we are and still holding open the way of salvation.