Hosea 1:2-10 | Psalm 85 | Colossians 2:6-19 | Luke 11:1-13
---
Many years ago, a disciple waited for Jesus to finish praying that he might beg of him, "Lord, teach us to pray." I wonder if Jesus looked around at his followers, sort of bewildered, and thought, "What have we been doing all this time that they don't know how to pray?" But Jesus gives a simple yet profound prayer, topped off with a little parable speaking to the payoffs of persistence and a not-so-subtle reminder of how great and gracious the heavenly Father is when it comes to responding to His children. As much as I would like to elaborate on each line of the Lord's Prayer and swap stories about perseverance and answered prayers, these chairs are only comfortable for so long.
For our time in the Parish Hall, Lynn has very cleverly snuck in not only one of my favorite hymns but also a key to our message today: "Seek ye first." (Now, for 8 o'clock, we don't get to sing it, but hopefully you know it well.  Hymn 711, "Seek ye first the kingdom of God.") It's one of my favorites because it's one of the first songs in The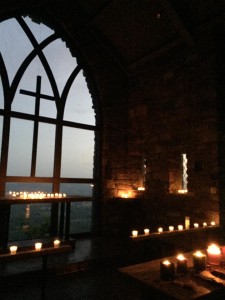 Episcopal Church that got into my heart and mind. I learned it at Camp Mitchell on retreat. No matter where I sing it, I imagine the echo of women's voices singing it in the round, some voices breaking into parts. It has a Taizé-like quality to it: a simple hymn, easily repeated. The hymn draws from verse 9 of today's reading, the second verse echoing what Jesus said to the disciples, "Ask, and it will be given you; search, and you will find; knock, and the door will be opened for you." Then we sing our refrain of Alleluias.
As far as I can tell, we're flat-out being told that we'll get what we ask for and find what we're looking for, and if we just keep knocking, we're going to get the door open. According to St. Bede, it's the door to the Kingdom of God we're striving to enter. Our asking is our prayer. Our searching is our proper living. Our knocking is our perseverance in our life and prayer. These three things help grant us entrance to the Kingdom of God, alleluia!
I think Bede's onto something, and I certainly don't question what Jesus says to his disciples. I do wonder, however, at how we think of asking, seeking, and knocking. We might get so caught up in asking and seeking and making sure we're knocking at the right door that we get a little preoccupied with our self-righteousness and piety. In such cases, we end up playing the part of the hypocrite, our prayers false and our lives full of pretense but no depth. Or what of the faithful who pray devotedly, live righteously, and persevere mightily and who cannot seem to get a break? Maybe we know a few in that category, too.
As we look to Jesus for guidance in our praying, it's important to think of how we ask of God.
Here I say "God" so freely, but Jesus instructs us in our prayer that we address the almighty as "Father," perhaps because the name is so holy and revered, so hallowed, that we dare not presume to address the Most High directly . . . except as the most beloved Father we share through Christ. Before we ask the Father for anything, we acknowledge that it is God's kingdom we wish to be manifest. Here the Matthean addition of "Your will be done, on earth as it is in heaven" (Mtw 6:10) elaborates on the priority of God's will over our own. The foundation before we ask for anything is that we acknowledge our God in holiness and our God in relationship to us. We also surrender ourselves as obedient children of God. Our surrender is to a good and loving God of whom we don't necessarily have to ask, we sort of state to God: "Give us each day our daily bread. And forgive us our sins, for we ourselves forgive everyone indebted to us. And do not bring us to the time of trial." In our petitions, we are asking of God but also reminding ourselves of what God provides. We ask that God's will be done and that we have the sustenance, forgiveness, and perseverance to be a part of the kingdom. So, how do we ask of God? Humbly and expectantly. No matter how old we are, we are but a child addressing our heavenly Father, and as such we do expect to receive, though we might not understand how the Holy Spirit is at work in God's will or how God's will is at work in us.
Our understanding can be improved, however, when we persist in our searching. It's important to consider how we search for God.
Honestly, I wanted to say that it's important to consider how we "look" for God, but we "look" for our keys when we've lost them. When we have asked something of God and are searching for where Spirit is at work in our lives, we aren't just looking for signs, though we do hope to see them. In our searching, there is hope and yearning. In our searching, there is commitment. Maybe it plays on the psychology of intention, but when we focus our search on something, we become more aware, more likely to notice whatever it is we are searching for. We needn't look any farther than ourselves. Rowan Williams says, "Prayer is the life of Jesus coming alive in you, so it is hardly surprising if it is absolutely bound up with a certain way of being human which is about reconciliation, mercy, and freely extending welcome and the love of God to others." One of the best examples of this kind of Jesus-becoming is told in our book of saints, Holy Women, Holy Men. This past Wednesday, we honored Elizabeth Cady Stanton, Amelia Bloomer, Sojourner Truth, and Harriet Tubman. Reading their incredible bios, Sojourner Truth at one point took to the streets as an evangelist, proclaiming the Word. What she found on the streets, however, were people cold and hungry and homeless and unemployed. No doubt they needed the Word, but they needed daily bread and coats. They needed a place to live, so Sojourner established a home for them. What better way to preach the Gospel? What better way to discover God in the midst of the people? When we are living our lives as prayer, we can find God even when we think we aren't searching. Finally for this morning,
 it's important to consider where we think of God.
Where we think of God hinges on a fairly simple premise: is God here or in a great beyond? Are we praying to some far off God whose door to the kingdom is in some nearly mythical "heaven" that we'll only know in death? Or, do we believe that the Holy One is closer than the air we breathe? Where is the door we need to knock on to let the kingdom come? Maybe it's no farther than our mind and hearts. We have asked for it and sought it, why wouldn't it be here for us to enter into? As comforting to us as it might be that the kingdom can be found in the here and now, there is great responsibility in choosing to knock and enter into the graciousness of God's kingdom. It means returning to prayer again and again, discerning moment to moment. But it also means doing so in fullness of Spirit, as a revealed child of God, and for that glory, we heartily sing our alleluias before we get back to work, asking, seeking, and knocking.