Amos 8:1-12 | Psalm 52 | Colossians 1:15-28 | Luke 10:38-42
---
How grateful I am that we are able to come together this morning. We may have an altered location, but we have set apart a time and place to come together in worship and prayer, no matter what is going on in the world around us. We have set apart a time and a place to engage the Word of God, to offer our thanksgiving, and to receive the body and blood of Christ into our person. All this we do as is our habit, our custom. For most everyone here, it's just our Sunday morning routine. Many could do it without a prayer book or bulletin. Indeed, you can do it without saying anything at all. You could just go through the motions, literally, but I invite you this morning
to be fully present.
In this holy place where more than two or three are gathered, I assure you that the presence of the Lord is here. I invite you this morning
to open your heart.
As sure as the presence of the Lord is here, so also is the Spirit speaking to us. I invite you this morning
to listen.
If we are present, open, and listening, we will not leave this place the same person as when we first entered. A true encounter with God leaves us a changed person.
Getting to that place of encounter, though, can be difficult. Even now, some of your minds may have already wandered, my voice a blur in the background to the interior monologue of your mind playing your tape of things to do, reminding you of things you might have forgotten. Or maybe you're still struggling to be present, as I invited you to do just a minute ago. No, it hasn't been long, but our brains these days are wired to focus for a max of about three minutes. If we were communicating online, our focus would only last about 45 seconds. I'm not making these numbers up. I listened to a program a couple of weeks ago called "Infomagical: BOOTCAMP." "Infomagical" was about a 5-day challenge to fight information overload, but in this particular podcast bootcamp, they focused on the one thing that was most effective for being productive and anxiety-free: single-tasking. They interviewed a neuroscientist who affirmed that we truly only do one thing at a time, though we can shift quite quickly between our many tasks, cashing in a bit of glucose in exchange each time and increasing our stress levels. It's no wonder Martha gets frantic. If we continue to follow the pace set by media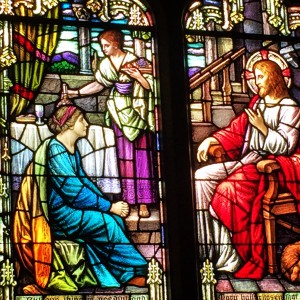 outlets and social media networks, we're all on a trajectory leading to burnout and exhaustion.
Then there's Mary, who has chosen to listen to Jesus, devouring his every word. Mary knew how to single-task. We might say, like Augustine, that she is feasting on the Word before her. Mary sat at the feet of Jesus so transfixed upon him that we don't hear her speak. Whether her mind is racing with questions or whether she's struck with awe, we don't know. But Jesus knew. Jesus knew she chose to stay attentive to his word, completely abandoning her duties as a first century woman. Jesus probably knew the weight of her heart and the truth of her soul.
For when we are present and open-hearted, we tend to reside in truth . . . vulnerable, naked truth.
When we listen in this state, it feels like another dimension opens up. It feels like an alternate reality because the walls that divide us are let down. My armor is cast aside; our barriers disappear. I don't need a hearing aid or a microphone to hear or be heard because my whole being is attuned to you. Our minds track our thoughts, our eyes speak volumes, our hearts beat in time, and our voice when we speak gives voice to our soul. I hope with all hope that you've experienced this kind of listening with another. It is a gift. I can only imagine what Mary experienced listening to Jesus, both in what was said and unsaid.
Reflecting on this act of listening, I am reminded that the invitation to sit and feast on the Word is always available. CB last week reminded us that amidst all the distraction of the media and our own worries and concerns, that it is the Bible to which we should return for our guidance. Even as Jesus last week reminded us of our command to love our neighbors, this week he reminds us, too, to be attentive to Him, to be present and open to Him, and to listen to Him.
If you think that you've gone too far away from a life lived in truth or that it's been too long since last you felt the presence of Christ as the word whispered in your heart, I share this story with you.
There is a practice of holy listening that I've experienced. I learned it through Parker Palmer's work. As a Quaker, Palmer is quite familiar with the art of listening. He explains that often we need a third thing, something between us and Wisdom to invite that suppressed or too quiet voice to be heard. Like a wild fox in the forest, Wisdom waits for us to be very still, waits for us to be ready for the truth so we can hear it with love and without fear.
A poem makes for an excellent third thing because a good poem captures a moment yet reveals a universal truth which can then relate to our lives in myriad ways.
To a few men at the Garland County jail a couple of months ago, I brought a poem. Before I brought the poem, I brought the desire to hear their truths. I brought the belief that each of them is a beloved child of God. I brought the desire to listen to them and to help them listen to God.
With mutual trust we read the poem aloud. We highlighted words or phrases from David Whyte's poem "Sometimes." Some of the phrases that stood out were "move carefully," "frightening requests," and "questions that have no right to go away." We shared what the phrases made us think of and what the images might mean to us individually. Each of us entered that sacred dimension of holy listening.
The poem is set in the woods. I invited the men to imagine walking in the woods with a beloved companion, someone they loved, trusted, and truly respected, someone who always had their back. And we asked questions of this beloved companion, honest, open questions that I didn't know the answers to. We also let the companion respond to our questions. After a period of silence, most shared their responses, and I wish you could have felt the stillness of the room, how even in a cinderblock, windowless space, there was the presence of the holy.
Daring to break the silence, I invited them to regard their companion as their own best self, the child God created them to be. If that was too hard, they could regard their companion as Jesus. Either way, the encounter they had was with the Wisdom within, the Truth that abides in the Word, the Truth in which we are all held together through Christ Jesus.
With an "Amen," I brought our exercise to a close. One of the guys looked at me directly and said, "I've never done anything like that before. That was intense." Other guys nodded, and I saw in their eyes that some truly had encountered something. It wasn't necessarily joyful and awesome. It wasn't something they could necessarily give voice to beyond affirming its intensity. Whether their encounter changed them or not, that's up to them to choose, but God was there to speak to them, to offer an invitation.
We don't have to have a third thing to get to the one thing that matters most: opening our heart to Christ. It doesn't simply mean opening the door to let Jesus in then getting on with our agenda. Opening our hearts to Christ means deeply ingesting the Word of God and receiving the fire of the Holy Spirit.
Opening our hearts to Christ means living in this world with a love so fierce that our hearts break in the suffering and bleed in the violence, trusting that our love in Christ remains steadfast and true and heals us all.
We listen to the Word as it fills our hearts and minds and then . . . and then we rise to do the work we have been given to do.
When we leave this place today after our prayerful encounter with God, we leave changed that we might change the world.
Amen.