1 Kings 19:15-16, 19-21 | Psalm 16 | Galatians 5:1, 13-25 | Luke 9:51-62
---
Rarely does one walk into an employment obligation without really knowing the full range of requirements, expectations, and compensation. Sure, a teenager might take a summer job and not know what her hourly wage will be, and her mother might sign up to be part of summer camp staff for a couple of weeks without a clue as what exactly to expect. But most people most of the time know what they're signing up for. We want to make sure that we'll be able to fulfill expectations and that the effort we put into something will be justly compensated. Our needs and abilities are paramount when we make these important decisions about how we invest our time and energy. When it comes to how we make our living, it's a matter of getting the math to work in our favor. When it comes to how we live a life, however, especially a Christian life, it's a matter of something else entirely. When we signed on to be Christians, we signed on to a life of discipleship. Even though discipleship is spelled out for us in the Word, we're still trying to figure out what it means for us … and what it will cost us.
From what we learn from Elisha and the would-be followers of Jesus, one has to be crazy to be a disciple. Crazy because it doesn't make sense in our fight or flight world to leave what is comfortable, to surrender oneself, or to let go of control. Who gives up everything to take on something new and unknown? But that's what Elisha did when Elijah called him. Maybe not right at first, but when he realized that Elijah meant business, Elisha cut his ties quickly and followed Elijah completely, becoming his servant. Likewise, Jesus makes no qualms about the expectations of his followers. It's going to be difficult. There are going to be times of alienation, and it's going to require everything, all of their being, all of their focus. It's all or nothing, and the same is true even today: Jesus demands our all with a focus as determined as he was with his sight set on Jerusalem.
This full demand of ourselves perhaps doesn't sit so well with us because humanity's evolutionary process and technological advances strive to make our lives successful and efficient. "We live in an environment of ease and abundance," says National Geographic explorer and Blue Zones author Dan Buettner, but it turns out that ease and abundance are not serving us well. As we focus on making a living to keep life easy and abundant, we can end up caught in a hamster wheel of stress, illness, and discontent, chasing an illusion. Continuing that cycle seems crazy, too.
The Blue Zones that Buettner studied are places where people live longer, healthier, and happier lives. Yes, diet and natural exercise are important factors, but so are one's outlook on life and sense of belonging. Having a sense of purpose, knowing what one's purpose is, along with belonging to a family and practicing a faith tradition are crucial components of living a fulfilling life. (I'm fairly certain some of you are already in on these not-so-secret ideas.)
There was also a recent article about an assistant professor of psychology at Sewanee who conducted a study to compare "the emotional efficacy of strategies that people might use to make themselves feel better–doing something nice for themselves, doing something to benefit another person, and doing something for the betterment of the world." Again, not-so-surprisingly, doing something for others or for the world enhances one's well-being by increasing experiences of feelings like love, gratitude, and trust. Contrary to media and advertising, doing something self-indulgent like getting a massage, going shopping, or eating a decadent dessert has the same long-lasting effect on well-being and happiness as doing nothing.
So where does that leave us? I think it leaves us pondering upon Paul's words to the Galatians. "For you were called to freedom, brothers and sisters; only do not use your freedom as an opportunity for self-indulgence, but through love become slaves to one another" (Gal 5:13). We have the freedom to do what we want, which means we can remain contained in a finite web centered upon ourselves. But we also have the freedom to seek and to serve the kingdom of God, opening our lives to the infinite. We cannot open to the infinite on our own but only through Christ. We are invited to be willing servants to one another through Christ, through love, and it's not without compensation.
As disciples of Christ, we follow his way, expressing our love of God with all our heart, soul, strength, and mind. We follow his way, loving our neighbors as ourselves. We follow his way, teaching the Good News of Jesus' life, death, resurrection, and ascension, making way for more disciples. We use the resources and gifts that we have because we realize that they are all from God. Even in our feeble understanding and hum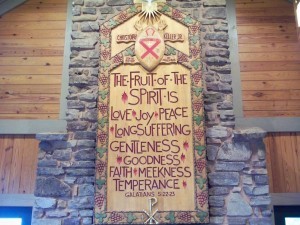 ble efforts, God sees fit to nurture within us fruits of the Spirit. These are our rewards in our faithful service: love, joy, peace, patience, kindness, generosity, faithfulness, gentleness, and self-control. When manifest, these fruits further empower the works of the devoted disciples to do things we didn't think we were capable of. Moments marked with signs of these fruits are beyond precious and remind us how near and dear God moves through the Holy Spirit.
It's okay to be the crazy Christian. We can all be the disciple who accepts the call of God, who embarks upon the thankless, sometimes dangerous, and unpredictable adventure of discipleship. "If we live by the Spirit, let us also be guided by the Spirit" (Gal 5:25). We can trust the work that we do or the hobbies that we have to enrich our witness to Christ as we proclaim the name of God and not only make disciples of others but become better disciples ourselves.