Exodus 34:29-35 | Psalm 99 | 2 Corinthians 3:12-4:2 | Luke 9:28-43a
There's a lot of energy buzzing around with it being Super Bowl Sunday, with racing season underway, and with Mardi Gras beads all around. Even the daffodils and hyacinth are blooming around the church. There's lively spring energy everywhere, life and light shining all around us. To top it all off before we enter the coming season of Lent, we get a glimpse of the glory of God revealed in the radiant transfiguration of Jesus, as Luke would tell it. And as Luke would tell it, "Jesus took with him Peter and John and James, and went up on the mountain to pray" (Lk 9:28).
If you've been doing Bible study (especially with CB) for any length of time or have been in Christian ed these past few weeks, you know that the gospel writers usually have a slightly different account to give for the same event. Such is the case for the account of the Transfiguration. It's mostly the same, but little things are different between them. For instance, Luke is the only one to say Jesus and all were going up on the mountain to pray and that it was while Jesus was praying that "the appearance of his face changed, and his clothes became dazzling white." In all three synoptic gospels, however, there's the voice from the cloud that tells them to listen to Jesus.
We've spent these past weeks in Epiphany highlighting Jesus's life, giving witness to the works of the Son of God, the Light of the world, in what we might call ordinary time. After all, today isn't the Feast of the Transfiguration (which comes in early August). Today's gospel is a glimpse into Jesus's life at the very basic level of who he is–the beloved, chosen Son of God, full of greatness and glory–and of what is to come–his departure.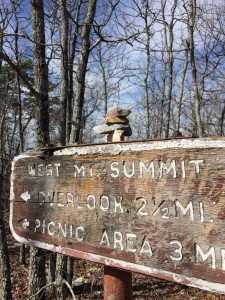 Wanting to dig deeper in the text in a different kind of way, I took advantage of this beautiful weather we're having to go for a hike . . . up a mountain. I hadn't yet been on any of the trails on West Mountain, so I thought I'd give it a go.
First of all, I didn't listen to the directions I was given very well, and I ended up at the trailhead on Blacksnake Road, at the Sunset trail.
Second, I had realized earlier in the morning that not only had I forgotten the rest of my coffee but I had also forgotten my water bottle on the kitchen counter at home.
Third, I had no snacks or bars with me, and it was the noon hour, over four hours since I'd eaten breakfast.
For consolation, I told myself that I didn't have to go far, that the steps would be good for me, and that if I got tired, I could turn back.
As I walked along the uphill trail–for it starts out uphill right away–I had to watch the rocky path and pay attention to my footing, but I also imagined following Jesus up a mountain, not knowing exactly where we were going or what we were going to do. Those thoughts drifted to noticing the trees around me, tall and skeletal, the scurry of something in the dead, dry leaves, my heart pulsing in my ears, and the white hot sun.
Directly over the top of the mountain, there shone the sun, so white it made me wonder why we color it yellow when it's high in the sky. It shone so brightly that even the shadows of the trees weren't very dark, and I was grateful for the cool breeze that kept me from feeling too hot, though my body had already begun to sweat. The sunlight was strong and all-encompassing. I could turn away from it, but it was always there, shining all around me and drawing attention to the nakedness of the woods in wintertime.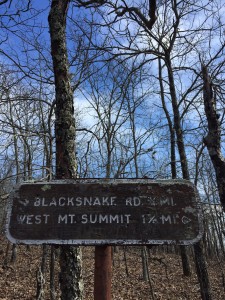 When I got to the sign that said I had 1 ¾ mile left to get to the lookout, I was thirsty and tired and wished I had been better prepared. I risked a glance at the sun, and then with spots in my vision, I turned back the way I came, downhill all the way.
No, I didn't have any grand epiphany on my partial-mountain hike, but through the bare trees, I took in some beautiful views. Up on the trail, the air was fresh and cool, and there was a sense of clarity of thought and vision, helped along, I'm sure, by the bright blue sky. It makes perfect sense why Jesus would go to a mountain top to pray, putting for the effort to escape the crowds that surrounded him below.
It also makes sense that Jesus brought three of his apostles with him, to witness what happened, even if they didn't understand it, and to hear the voice command them to listen to Jesus. For Jesus had already told them once that he would be killed and rise again. He would tell them again, more than once. He had already told them to take up their cross and follow him at great cost. He would reiterate the cost of discipleship and continue to tell them more about the kingdom of heaven. More than tell them, he would show them, and he would continue to pray with them.
Jesus doesn't become some esoteric hermit in a mountain top cave. He does everything he sets out to do, with us and among us, before us and beyond us.
And he tries to get it through our thick skulls and our hardened or broken hearts that all of His life here on Earth is to bring us into the glory of God, to bring us into the kingdom sooner or later. I think Luke gives us a hint here today that prayer is a surefire key to tap into the glory of God, which is all-encompassing and strengthens us to make it through the peaks and valleys of our lives. The glory of God gives us strength because it is assurance that love and life prevails.
A great crowd was anxious to get to Jesus when he got back from the mountain top. One of them was a father who had a child who needed to be rid of a demon. Luke shows us an annoyed Jesus who even then is able to heal the boy and show the greatness of God. In Mark's account, though, which has a kind of private debriefing with the twelve, Jesus tells his bewildered disciples that the kind of demon the boy had could "come out only through prayer" (Mk 9:29).
When darkness descends, when the demons fill our mind, sometimes our only recourse is prayer. Prayers our faith has taught us. Prayers we speak spontaneously. Prayers we repeat again and again because they give voice to our deepest longing, our greatest hopes, and biggest fears. It can be the words of prayer or our place of prayer or our very mindset that we have when we are deep in prayer that recall for us the real presence of Christ in our midst. Prayer can be a soothing balm for our souls or a suit of armor as we live into that hardest prayer of "God's will be done."
I think it is in times of prayer that Jesus aligns himself with God's will. We might like to think he's going apart to find a little peace and quiet, to get away from the loud and demanding masses. I imagine he is seeking peace and quiet, the kind of stillness that comes from being fully aligned with the will of God. As humans, living into God's will is our ongoing struggle, one we persevere through with unceasing prayer.
The former admissions coordinator for Sewanee had a saying: "Stay prayed up." She told me in her Tennessee twang, "If we're all prayed up, we're never far from His will." If we're prayed up, we realize we don't have to hike to mountain tops to witness the glory of God. If we're prayed up, we have the assurance of faith to see us through the valleys. If we're prayed up, we are ready to traverse some darkness and do some soul clearing and renewing before reaching the Easter Light. Even if we know the glory of God is with us all along, we keep praying.