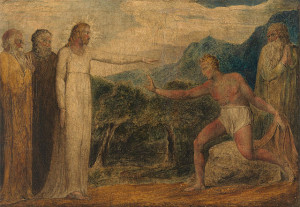 The Scripture Texts for Proper 25, Year B, Track 1  are
Job 42:1-6, 10-17 | Psalm 34:1-8, 19-22 | Hebrews 7:23-28 | Mark 10:46-52
It's a dusty, busy, crowded scene, the street where we find Bartimaeus today. I'm sure Bartimaeus wasn't the only one begging, and the twelve disciples aren't the only ones in the crowd following Jesus to Jerusalem. Still others are likely watching the passers-by with curiosity, suspicion, or apathy. The hearts and minds of the men, women, and children sound in myriad voices, a cacophony contrasting with that of the clarity of purpose, the clarity of vision with which Jesus made his way, being one so fully aligned with the will of God.
The scene isn't dissimilar from today. We are part of the crowd following Jesus. We, like Bartimaeus, ask for mercy. We, too, follow our Lord and Savior toward the promised land through our loud and busy lives.
Every three years in our lectionary, we come to this healing of Bartimaeus, to this scene at Jericho, where Jesus stands still and asks, "What do you want me to do for you?"
"Let me see again," Bartimaeus says.
"Go," Jesus tells him, "your faith has made you well." With regained sight, with renewed vision, Bartimaeus follows Jesus on the way.
Thank you, Jesus, for standing still.
While we may not be blinded by an all-consuming darkness or desperation, we may be wearing blinders, oblivious in other ways. We may be like the crowd telling Bartimaeus to stay down and keep quiet. So focused are we on our goal to where we think we are headed that we might trip upon one another, caught off-guard by the sudden stop in our journey. Jesus is standing still. Hopefully he has our attention.
"What do you want me to do for you?" Jesus asks all of us in our moment of pause.
"Let me see again," we might say. "Remind me where we're going, what we're doing. Restore my vision. Rekindle my passion for God's will, the fire of Spirit within me."
We're crazy to ask such a thing, you know.
If we look around with unobstructed vision, we see things as they are, and we can't unsee.
Starting with ourselves, we recognize the wholeness Christ brings to our broken lives, the healing we experience through redemption and the power that brings to us.
Then we notice the injustices around us. If you don't already see, talk to parishioners about Project Hope, Jackson House, or Salvation Army. Ask about Safe Haven, Potter's Clay, and Samaritan Ministries. Talk to principals, teachers, doctors, and nurses about our local schools and the uninsured. Talk to Kathy, CB, and me about the needs of folks we see here throughout the week and about other people and agencies that are struggling to meet those needs. Jesus opens our eyes to see, our minds to understand.
With clear vision, with wholeness and well-being, Jesus tells us to "Go." Where else have we to go but after Jesus? He's not telling us to go away from him. There is no place we can go that Jesus hasn't already been or isn't already present. In our moment of pause, we are re-set, but we can't stay still, basking in the radiance of Christ. He doesn't say, "Stay." He says, "Go." We are, after all, his disciples. We are to get moving. We follow him.
Next Sunday in our National Cathedral in D.C., Presiding-Bishop-elect Michael Curry will be installed as Presiding Bishop. In a recent interview, Bp. Curry says that one thing we most need in The Episcopal Church is "clarity of gospel vision." According to Bp. Curry, who sees his position as CEO of The Episcopal Church also as "chief evangelical officer," this clarity of vision means we Christians are clear about our role in what he calls the "Jesus Movement." We are full-blown evangelists, proclaiming the good news of Christ, making more disciples, baptizing in the name of the triune God, all the while following Jesus on the way to the promised land. (He knows this is crazy, too, which is why he wrote a book called Crazy Christians. But it's a good crazy.)
Evangelism doesn't mean making others come to our church, which is probably the thought that makes most Episcopalians shudder. Evangelism "happens where we get into the deeper spiritual thing where (our faith stories) meet."* It means my path crosses with someone else's on the journey, and we pause together long enough to create a relationship. Somehow, when we open our eyes, we can open our hearts, too. Following Jesus takes us to places where we meet people face to face. We look into the eyes of a child we mentor and marvel at the hope still brightly shining, no matter what her life circumstances may be. We drop off the box of food at a place that doesn't seem like much but is home to a family. We pray over the wounds of the sick and grasp the soiled hand because that is what love in action looks like. This is what Jesus has taught us to do. This, Curry says, "sets the stage for the Spirit to do what the Spirit's going to do. And at that point, … it's up to the person and the Spirit."
We open up a space for love to intercede.
This is what evangelism looks like to us today.
For us Christians, evangelism includes talking about our faith in Jesus. It means talking about where we find God in our lives, especially in grace-filled moments. Sharing our stories with others about how we came to St. Luke's and why we stay gives witness to others about how we follow Jesus through this place.
We understand we are following Jesus first and foremost. We love St. Luke's with a passion. We're going to raise a lot of money to assure our church's stability and future, but we're not a building first and then followers of Jesus. We're following the way of Jesus, moving toward the kingdom with every thought and step inside and outside these blessed walls. We want to enable our church here in Hot Springs to continue to offer the many resources it provides to us and to our community. We want the ministries offered to grow because there is need and because we are called to serve. In this place we can be still, be healed, and go out again to share our ongoing story in Christ.
I often hear people say that if they're still alive, they still have a purpose. Of course we do. We have the particular purpose of being disciples of Jesus, of following his way yet in our individual ways.
In Jericho, it looked like realizing we were wrong to hold Bartimaeus back and telling him to "take heart; get up," helping him to move into the presence of Jesus and then walking alongside him toward Jerusalem.
Today as we move with Jesus, it can look like listening — listening to the friend who needs to share her sorrows and loneliness. Listening to our kids–young or old–who need our attention and affection especially when they are trying our patience. We hear the need and, as Jesus showed us, we stop to listen.
Today, moving with Jesus looks like stepping out of our comfortable routine to volunteer with those who expand our understanding of the human condition, giving our most valuable resource of time.
Being part of the Jesus movement looks like sharing this feast and other meals with all kinds of people, supporting ministries, organizations, and institutions that promote the teachings of Jesus and bring the promised land a little closer.
Our role as disciples requires vision made clear by faith in Christ. We need this clarity of vision to keep us on the path Jesus has already forged for us. Lord knows I need to stop more often than every three years to be still and regain my focus. Daily prayer helps keep us closer God and more aware of the grace of God in our lives, keeping us ever-ready to share the good news with others. Weekly worship helps unify the body of Christ, strengthening that clarity of gospel vision that leads us as a church forward, following Jesus through all that is and is yet to come. So we go today with restored vision to make room for Spirit to do some work, God's will be done.
*"Michael B. Curry: Christian leaders need clarity of gospel vision," Faith & Leadership, Leadership Education at Duke Divinity, October 19, 2015, accessed October 22, 2015, https://www.faithandleadership.com/michael-b-curry-christian-leaders-need-clarity-gospel-vision.
Image used is part of Google Art Project and is licensed under Public Domain via Wikimedia Commons.