The Scripture Texts for Proper 19, Year B, Track 1  are:
Proverbs 1:20-33 | Psalm 19 | James 3:1-12 | Mark 8:27-38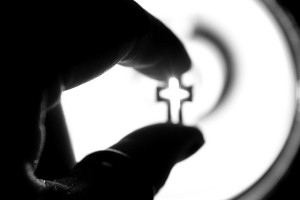 We think we've got this figured out. To carry a cross, we hold fast, stay true, and stake our claim on what is right and good. We do what is right and stand up for Jesus. We stand behind the cross we boldly carry before us. But somehow we find ourselves back to back and going nowhere fast. Somehow we've created walls with our crosses and have lost sight of Jesus. We know we've lost sight of Jesus because there is no room for true love of neighbor, and love of God looks more like violence than compassion. Others don't see Jesus, either. Or the Jesus they do see looks nothing like the Jesus of the gospel.
Whatever we think it means to be a Jesus-follower, today might be a good day to have a moment, like Peter, when Jesus flat out tells us that we don't have our head in the right place. Today, Jesus tells us that if we want to be one of his followers, we need to deny ourselves, take up our cross and follow him, losing our life for his sake.
"Tell my would-be followers to deny themselves," Jesus says first.
How do we deny ourselves? What are denying ourselves of?
I think of the phrase that I've been hearing and seeing a lot lately: "Not my monkeys, not my circus." When I hear or use this phrase myself, there's a sort of disassociation happening. We're not responsible for what's going on because that's completely someone else's problem, from the players to the whole play. But what if we look at problems around us and see ourselves as part of creation, part of God's creation. Looking at it this way, I cannot deny responsibility nor accountability, but I do realize a crucial thing: I am not God.
What if to deny ourselves means to deny myself the first seat of power? What if I do the amazing thing and let God be God. What if I let Jesus bear the cross for humanity? Instead of trying to walk with Jesus under the weight of the world, whispering in his ear what I think the best next move is or even trying to show him what the best next step is by walking ahead of him, how about I let him go before me. Lead me, Jesus, through the valley. Show me the way out of death into life. I don't have the power to do any of this alone. All power is yours, O God; help me, your willing servant.
Jesus says to the disciples, "Tell my followers to deny themselves and take up their cross."
We have to remember that we're not taking up the Cross, the cross upon which Jesus hung, "the emblem of suffering and shame," if "The Old Rugged Cross" rings in your ears as it does mine. That cross embodies all the torment and rejection and suffering of the world absorbed when our saviour was crucified. That's Jesus's cross, not ours. We reverence this cross, and we can cling to it with humility and respect, but it's not ours to carry.
I cannot know what your cross is, but I imagine it's similar to mine.
My cross is made of all the splinters pulled from my wounds–some bigger than others–and is held together by the sap, sweat, blood, and tears that is my awareness of the suffering in the world both far and near. It's made heavy by my grief, my fears. And y'all, it gets heavy. So heavy that there are times I can't listen to or read the news because the reports are so awful, the pictures too painful. I could distract myself with what we call entertainment, but I don't want my heart to be numbed, drugged into apathy or ignorance. Drugs and addictions come in many forms. So the weight gets heavy, heavier still by the "what if's." What if the Islamic State grows stronger? What if the voice of reason and common sense gets out-voted? What if my children don't learn the way of loving kindness? What if I fail my family, my church, my God? All this and more is in my cross. Can I even lift it?
As if in one breath, what Jesus says is, "Let them deny themselves and take up their cross and follow me."
Follow.
With Jesus before me, I see Light. I feel hope. I taste joy, and I hear faith. I am strengthened, or my burden is lightened. All the pain of my cross has already been carried for me. Jesus bore the weight of the world; I carry my mess of splinters. The cross I can pick up and carry reminds me that I have scars, scars that taught me to be calm and strong. Scars that taught me to listen, to be kind. Wounds not yet scarred that remind me to be compassionate, not to judge. These scars and wounds are marks of responsibility, gifts I have that will help me serve in God's will for this world.
Do we follow Jesus with our cross before us? As far as we're told, Jesus was removed from the cross. Jesus didn't take the cross to hell and back. He took the wounds, the wounds the apostles saw, that Thomas had to touch. If we put our crosses before us, we might lose our way and get stuck. We might focus on our suffering, losing sight of Jesus and the hope and light he gives us. We know what our crosses are, what they mean to us, what they teach us. They empower us to overcome darkness and death, thanks be to God.
This isn't an idealistic kind of discipleship. This is very much our real way of living in this world.
In the face of decade-long horrific violence, there are Christians–followers of Christ–who take seriously the call to be peacemakers. There are people like Amado Bello, who was raised Muslim and is now a Christian pastor in the Church of the Brethren in Nigeria, who risks his life to speak to those who have the power to kill him. Not only does he speak to them, he treats them with respect, as fellow human beings, trying to understand them. And he prays with them and suggests routes they can take not to be killed "because I love you," he says. "While driving with his family, (Bello) was stopped and surrounded by a large Boko Haram contingent. Bello expected to be killed, but one militant looked into the car window and recognized him. 'He's a good man,' he told the others. To Bello, he said, 'You may pass.' . . . The family drove on without incident," though they feared the worst.
The militant who let him pass was a man who had previously washed Bello's car. Bello didn't know that the man was a militant when he was talking about the importance of listening, understanding, and addressing problems rather than turning to violence and murder. Bello spoke the truth of the gospel and practiced the compassion of our Lord, empowered by the cross that above all things taught him to love his enemy and to pray for those who persecuted him, and he was recognized as Good. He was willing to lose his life for the sake of the gospel.*
Despite the harsh reality, stories like Bello's can seem distant and unreal. Our neighbors aren't often seeking us out to persecute us. More often, our enemies are guised as "friends," say, Friends on Facebook, who say or do something that offends us. We want to strike back, lash out, "unfriend" them. How often do we offer them our sincere prayer? An openly gay, black priest serving in Kansas City, Father Marcus Halley had the presence of mind–the presence of Christ–not to lash out against Kim Davis in all the furor these past couple of weeks. What he did offer, was a letter, a letter he openly published which she may or may not have read. Among other things that I encourage you to read, he says, "It is my meet, right, and bounden duty that I affirm your humanity. Like our Lord who willingly offered himself in love to those who could not or would not return it – I am duty-bound to do the same. Why? Because creation will know that we are Christians, not by the way we argue right versus wrong, but by the way we love one another."
In denying ourselves, we put our greatest love first. With God before us, we take up our cross, not buried by it or hiding behind it, but we take it up in our very being. And we follow Jesus, together. We follow Jesus boldly yet humbly, wherever he leads, so that all will recognize us by our love.
*Story of Amado Bello: Peggy Gish, "Learning to Love Boko Haram: A Nigerian Peace Church Responds," Plough Quarterly no. 6 (Autumn 2015): 13-20.