Today's calendar presented an open slate, which then filled with the simple pleasures of keeping house and preparing an abundant lunch.  The next wave of thunderstorms has rolled in, just in time to go pick the kids up from school.
For this brief moment, I find myself sitting in a quiet house . . . well, maybe not completely quiet.  The thunder, rain, and dishwasher have their voices heard at the moment, along with the clicking of the keyboard.  It is, however, still — especially compared to what it's usually like with four kids and two adults and a dog and cat running about.
Some days we just have to revel in what is, and I know that this is good.  I don't know what the next hour or tomorrow or next year holds for us, but I do know that if I can remember the joy and gratitude I feel in my heart at this present moment, that all will be well.
Right now we also get to enjoy eating the few fresh strawberries we have from the garden, reminding us what a real strawberry tastes like, what a fruit of the earth carries in a perfectly packaged little bundle of tender juiciness.  Experiencing and tasting these delights, I know that what I buy in bulk from the store doesn't even get close to the truly organic variety from the backyard.  Sometimes we just have to be reminded of how good it can be.  Sometimes we have to remind ourselves how sweet we really have it, fresh strawberries or no.
I consider myself delightfully spoiled today, and I give thanks to all that is.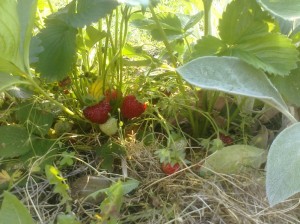 (Cloudy skies today contrast with the sunny skies of yesterday morning, when we remembered to collect our first strawberries of the season. 🙂 )