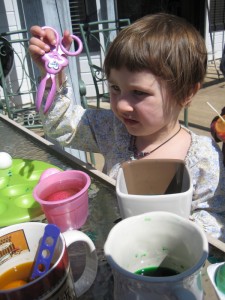 Right now, our youngest describes things according to her preference.  For example, she says, "Chickies my fav'rite," and "Worms not my fav'rite."  ("Fav'rite," of course, is her way of saying favorite; she just drops the "o" sound.  I wish I had a sound clip because it is absolutely adorable and otherwise completely enunciated.)
In her toddler world right now, she is the sun, and everything else revolves around her.  If you're not her fav'rite, then you might as well be on the dark side of the moon.  She has a look for you if she thinks that way, and those of you who know her know what I'm talking about.  🙂
In my world right now, I have many favorites shining forth.  Quality time with family and friends, sunshine, gardening.  I don't get to spend nearly enough time in these arenas, but I love them dearly.  I also love the results of spring cleaning and even the time spent doing so, if I can tap into the right frame of mind.  The skies before a storm.  Watching the chickens find what I cannot see in the dirt.  Listening to others speak their Wisdom.  Feeling that which cannot be seen in another's suffering.  Watching the miracle of birth unfold in more ways than one.  Learning.  Growing.  Loving.
What may seem like the dark side of the moon in my world is really just like night time or lying fallow in the earth.  The love I feel for everything these days, the compassion I find in oh-so-many places and faces — expected and unexpected, the suffering I know about or stumble upon, all this combines and swirls in the One.  Truly this is a Mystery, but I trust it.  I trust that all things rise and fall in my awareness.  What needs to be done will be done.  What needs to be known will be known.  I hope that I'm where I need to be when I need to be there.
Maybe my busy life is more simple than I realize.  With the right frame of mind and a solid, grounded presence, there's an altered time, if even time at all.  We can experience life moment by moment, and that is definitely one of my fav'rites.
(photos of some fav'rite moments: Ashton reading, Alexander making artful eggs, Avery & Dino (his chicken), and Autumn making cookies)