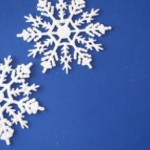 My husband put on his Facebook post, "HOW TO: Have four sick kids at once.  1) Have four kids.  2) Have one of the four kids be sick.  3) Mix well on a snow day."  The next day, naturally, he had to post a "how to have a sick dad."  The positive side is that at least the kids haven't missed the whole week due to sickness, and there may be a snow day tomorrow as well.
As mothers, there's a sickness regimen I think we develop for ourselves.  Healthy food, limit sugar, lots of tea/water, naps, clean/disinfect.  Perhaps the universe is reminding me that this is of utmost importance in our daily round, not just when the kids are sick.  I say this because my focus this week has been on being productive and taking my "work" seriously.
Fortunately, I have the time to spend with my family.  We are here together and somehow seem to have the means to provide, thanks be to God.  As I strive to check items off my list today, I'll try to remember what will help keep us healthy individually and as a family.
I'm just sad it's too cold outside to play!  We may have to make an exception to the sugar rule for some homemade cookies.  🙂