A friend shared this recipe with me several years ago, and I've made it every Thanksgiving since.  How grateful I am for our family and friends and the food, shelter, warmth and Love we are so blessed with.
So, I share this with you, with thanks and attribution to Erin W.  🙂
(and this is my kitchen at past-midnight, Thanksgiving-eve)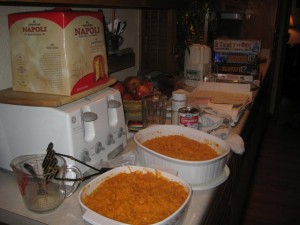 Sweet Potato Casserole
This casserole is sweet and yummy, almost of dessert quality, so a little goes a long way.
5 medium sweet potatoes, cooked and peeled
2 beaten eggs
1/4 cup evaporated milk
1 tsp. vanilla
3/4 cup sugar
1/2 tsp. salt
2 Tbsp. butter
Topping:
1/2 stick butter
3/4 cup brown sugar
1 cup chopped pecans
*In medium bowl (or the 2 qt. dish you're baking in, if you're lazy like me!), mash potatoes.  Add eggs, milk, vanilla, sugar, salt and butter.
*Pour into buttered baking dish (if you used a bowl — I always omit this step/forget to butter the dish!)
*Bake at 350 degrees F for 20 min.  Mix the topping ingredients.
*Remove, heat oven to 375 degrees F.
*Sprinkle on topping.  Bake additional 6-8 minutes.