There's "spring cleaning," and I figure what I'm going through now is "fall clearing" — when it's time to clear the clutter, make some organizational shifts, and make sure my priorities are in line before the long nights of winter set in. (It only seems far off; we know how time gets away from us.)  Honestly, the coming fall fills me with as much excitement as spring, just in a different way.
The days have just been hot enough to make you sweat, and many nights have been cool enough to cut the a/c and open the windows.  I sense a pull to what is natural, intuitive.  I'm making decisions based on a gut feeling, and great things are happening, however seemingly small they might be.
All this is related in that by clearing out some of the stuff that's filling my days, my house, my mind, I am making room for quiet, for creativity, for Divine energy to move about and through me.  I love being aware of the synchronicities as they unfold, and I love having time to participate in them.  I offer unbounded thanks to those who are able and willing to participate with me.
This morning, after daddy took the older children to school, I was clearing the breakfast table (from a yummy feast of omelets and potato cakes).  Table clear, dog having eaten the leftovers, I gathered up the compost.  The youngest had been going in and out the back door, revelling in her ability to open and close the sliding glass door, talking in her suddenly realized vocabulary about the cat and dog being in and out, out and in.  I watched her through the window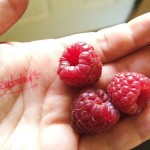 when she was outside making a barricade of her body so the cat couldn't go any further.  Of course, the cat just walked around her.  Suddenly, she ran inside to get a "tiny bowl." "Mommy come?" she asked.  I slipped on my shoes and grabbed the compost.  It was time again to get a little raspberry snack.  I dumped my bowl of scraps and grounds and then searched with childlike enthusiasm for the dark red treats, wondering why I had ever worried about the birds and the bugs getting them all.  We have to share.  With our snack-sized bounty, we turned to the house.  Behind the glass door, I saw my husband smiling, coffee in hand, and I relished the moment when our little one realized her daddy was back home.
It truly is the little moments that make life rich, even if we tend only to remember the big events.  As I continue my late summer and early fall clearing, I hope to continue to embrace the time given to do what need be done but also be who and where I need to be.  I wish no less for you, with love.